Argent Depths Format Updates
Changes to Expedition and Draft Packs with the release of Eternal's newest set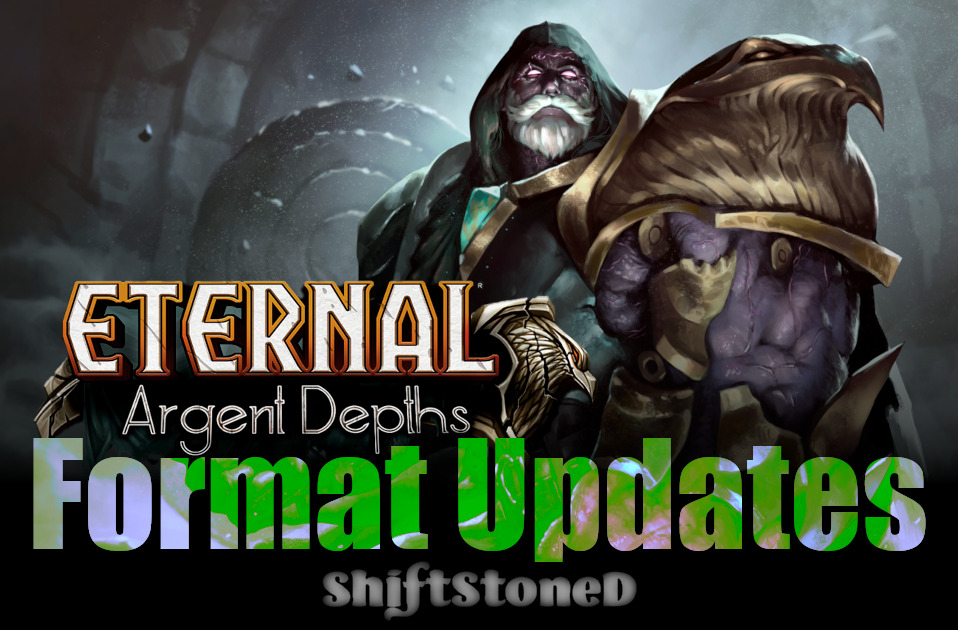 - With each large expansion, Dire Wolf Digital redesigns the Eternal Draft Packs and Expedition to complement the new set. They were updated on June 24 with Argent Depths' release, so let's explore the changes to the Draft and Expedition formats.
The official list of current Draft Pack contents and Expedition-legal cards can always be found on DWD's site. We sorted each card into Kept, Added, or Removed for each format. Use the toggles below to swap between formats, and to filter cards based on their faction or change.
A few notes:
Draft only shows the Draft Pack changes (not Argent Depths) between this redesign and the Echoes of Eternity format's May 12 update (we are ignoring the special Argent Depths Draft Preview).
Draft displays the cards' weightings—cards with a weight of 5 are five times more likely to appear in Draft Packs than cards with a weight of 1 at the same rarity.
The Expedition changes do not include the following sets, which remain in the format in their entirety:

Argent Depths
Shadow of the Spire
Whispers of the Throne
Echoes of Eternity, including its promos (from Traver's Farm onward)

The Expedition changes do include pre-Echoes promos, The Flame of Xulta, Draft Pack updates, and removed cards from older campaign and bundle sets.
---
- Update: a few cards were mistakenly missing from the Draft Pack list. Of those, we are unsure of what General Izalio's weighting was at the time. We are marking its weighting as "5x", just note that it may have been 1x.
Fire
Added
Assault Shield

Image

Draft weightings

now

10

was

-

Bladecrafter

Image

Draft weightings

now

1

was

-

Blazing Salvo

Image

Draft weightings

now

10

was

-

Burningcore Drake

Image

Draft weightings

now

1

was

-

Covetous Stranger

Image

Draft weightings

now

1

was

-

Dancing Flame

Image

Draft weightings

now

1

was

-

Dramatist's Mask

Image

Draft weightings

now

1

was

-

Fire Conjuring

Image

Draft weightings

now

5

was

-

Forgeborn

Image

Draft weightings

now

10

was

-

Furyblade

Image

Draft weightings

now

1

was

-

General Izalio

Image

Draft weightings

now

5

was

-

Granite Waystone

Image

Draft weightings

now

10

was

-

Grenarender

Image

Draft weightings

now

5

was

-

Gun Down

Image

Draft weightings

now

10

was

-

Hammerhand

Image

Draft weightings

now

5

was

-

Iceberg Scattershot

Image

Draft weightings

now

10

was

-

Incendiary Slagmite

Image

Draft weightings

now

1

was

-

Inferno Zealot

Image

Draft weightings

now

5

was

-

Kato, Arena Herald

Image

Draft weightings

now

1

was

-

Kazuo, Melee Virtuoso

Image

Draft weightings

now

1

was

-

Kindling Carver

Image

Draft weightings

now

1

was

-

Lavablood Goliath

Image

Draft weightings

now

1

was

-

Markmaker

Image

Draft weightings

now

5

was

-

Midias, Leyline Dragon

Image

Draft weightings

now

1

was

-

Nika, the Freescaler

Image

Draft weightings

now

1

was

-

Ruinous Burst

Image

Draft weightings

now

1

was

-

Sear

Image

Draft weightings

now

1

was

-

Shavka's Embrace

Image

Draft weightings

now

1

was

-

Shavka's Lute

Image

Draft weightings

now

1

was

-

Shavka's Stranger

Image

Draft weightings

now

1

was

-

Shugo's Hooked Sword

Image

Draft weightings

now

1

was

-

Slag

Image

Draft weightings

now

1

was

-

Smith's Hammer

Image

Draft weightings

now

1

was

-

Soldrain Smithing

Image

Draft weightings

now

1

was

-

Song of War

Image

Draft weightings

now

10

was

-

Stonepowder Bomber

Image

Draft weightings

now

5

was

-

Tattoo Dragon

Image

Draft weightings

now

10

was

-

Thunder of Wings

Image

Draft weightings

now

10

was

-

Thunderhoof Warrior

Image

Draft weightings

now

5

was

-

Tota Pioneer

Image

Draft weightings

now

10

was

-

Touch of Force

Image

Draft weightings

now

5

was

-

Trail Stories

Image

Draft weightings

now

1

was

-

Volatility

Image

Draft weightings

now

1

was

-

Wildfire Censari

Image

Draft weightings

now

5

was

-

Yeti Cookmaster

Image

Draft weightings

now

10

was

-
Removed
Akko, Inspired Artist

Image

Draft weightings

now

-

was

1

Ancient Defenses

Image

Draft weightings

now

-

was

6

Ashen Snakepit

Image

Draft weightings

now

-

was

6

Barbarian Camp

Image

Draft weightings

now

-

was

6

Barkeep's Friend

Image

Draft weightings

now

-

was

3

Birthright

Image

Draft weightings

now

-

was

1

Breath of Voprex

Image

Draft weightings

now

-

was

1

Burning Claw

Image

Draft weightings

now

-

was

1

Charchain Flail

Image

Draft weightings

now

-

was

1

Cinder Clutch

Image

Cinder Yeti

Image

Cindermaw Tota

Image

Draft weightings

now

-

was

1

Cloud of Ash

Image

Draft weightings

now

-

was

1

Coverfire Marksman

Image

Draft weightings

now

-

was

6

Cozin Darkheart

Image

Draft weightings

now

-

was

1

Crimson Firemaw

Image

Crowd Favorite

Image

Draft weightings

now

-

was

1

Desperate Gambit

Image

Draft weightings

now

-

was

6

Draconic Ire

Image

Draft weightings

now

-

was

1

Dragon Forge

Image

Draft weightings

now

-

was

1

Eclipse Dragon

Image

Draft weightings

now

-

was

1

Edict of Shavka

Image

Draft weightings

now

-

was

1

Emblem of Shavka

Image

Draft weightings

now

-

was

6

Endra, Champion of Shavka

Image

Factory Quota

Image

Draft weightings

now

-

was

6

First Flame

Image

Draft weightings

now

-

was

1

Flamestoker

Image

Draft weightings

now

-

was

1

Flametail Whip

Image

Draft weightings

now

-

was

6

Frontline Cyclops

Image

Draft weightings

now

-

was

6

Funeral Pyre

Image

Draft weightings

now

-

was

6

Galai, Shavka's Listener

Image

Draft weightings

now

-

was

1

Gaudy Showman

Image

Draft weightings

now

-

was

1

Gold Mine

Image

Draft weightings

now

-

was

6

Grandfather's Axe

Image

Draft weightings

now

-

was

1

Granite Ring

Image

Draft weightings

now

-

was

6

Grenade

Image

Draft weightings

now

-

was

1

Hellfire Rifle

Image

Draft weightings

now

-

was

1

Honor the Ancestors

Image

Draft weightings

now

-

was

1

Hordeleader

Image

Draft weightings

now

-

was

6

Hotblood Barbarian

Image

Draft weightings

now

-

was

6

Improvised Rubbler

Image

Draft weightings

now

-

was

1

Infernus

Image

Draft weightings

now

-

was

1

Jawbone Greatsword

Image

Draft weightings

now

-

was

1

Jawbone Hatchet

Image

Draft weightings

now

-

was

1

Kaleb's Intervention

Image

Draft weightings

now

-

was

6

Kaleb's Sanctum

Image

Draft weightings

now

-

was

1

Kaleb, Uncrowned Prince

Image

Draft weightings

now

-

was

1

Kindle

Image

Living Mountain

Image

Draft weightings

now

-

was

6

Magebreaker

Image

Draft weightings

now

-

was

1

Magmatic Sentinel

Image

Draft weightings

now

-

was

6

Molten Fist

Image

Draft weightings

now

-

was

1

Oni Cavediver

Image

Draft weightings

now

-

was

6

Oni Quartermaster

Image

Draft weightings

now

-

was

1

Overheat

Image

Draft weightings

now

-

was

6

Parapet Sentry

Image

Draft weightings

now

-

was

6

Phoenix Hammer

Image

Draft weightings

now

-

was

6

Phoenix Stone

Image

Draft weightings

now

-

was

1

Plunder

Image

Draft weightings

now

-

was

6

Raging Firemaw

Image

Draft weightings

now

-

was

1

Rakano Flagbearer

Image

Draft weightings

now

-

was

1

Reforge

Image

Draft weightings

now

-

was

1

Relentless Combatant

Image

Draft weightings

now

-

was

6

Rock Carapace

Image

Draft weightings

now

-

was

1

Rusty Grenamotive

Image

Draft weightings

now

-

was

6

Ruthless Stranger

Image

Draft weightings

now

-

was

3

Shingane Captain

Image

Draft weightings

now

-

was

6

Siege Breaker

Image

Draft weightings

now

-

was

1

Sindok, Rage Incarnate

Image

Draft weightings

now

-

was

1

Sizzleback Salamander

Image

Draft weightings

now

-

was

6

Sky Terror

Image

Draft weightings

now

-

was

1

Slayer's Edge

Image

Draft weightings

now

-

was

1

Softfoot Burglar

Image

Draft weightings

now

-

was

6

Sol's Fury

Image

Draft weightings

now

-

was

1

Soulfire Drake

Image

Draft weightings

now

-

was

1

Spear of the Dying Sun

Image

Draft weightings

now

-

was

1

Spitfire

Image

Draft weightings

now

-

was

6

Stonescar Excavator

Image

Draft weightings

now

-

was

1

Swift Stranger

Image

Draft weightings

now

-

was

3

Teething Whelp

Image

Draft weightings

now

-

was

1

Temper

Image

Draft weightings

now

-

was

1

Urn of Choking Embers

Image

Draft weightings

now

-

was

6

Wandering Forge

Image

Draft weightings

now

-

was

6

Warbrush Oni

Image

Draft weightings

now

-

was

1

Warhorn

Image

Draft weightings

now

-

was

1

Warpainter

Image

Draft weightings

now

-

was

1

Yeti Sage

Image

Draft weightings

now

-

was

6
Kept
Ankle Cutter

Image

Draft weightings

now

5

was

1

Bladerang

Image

Draft weightings

now

1

was

1

Blazing Renegade

Image

Draft weightings

now

1

was

1

Burn Out

Image

Draft weightings

now

1

was

1

Centaur Outrider

Image

Draft weightings

now

5

was

1

Centaur Raidleader

Image

Draft weightings

now

1

was

1

Char

Image

Draft weightings

now

1

was

1

Claw of the First Dragon

Image

Draft weightings

now

1

was

1

Criva, the Crimson Scythe

Image

Draft weightings

now

10

was

1

Dramatic Exit

Image

Draft weightings

now

5

was

6

Dusthoof Brawler

Image

Draft weightings

now

1

was

1

Firemane Cub

Image

Draft weightings

now

1

was

6

Flamekeeper

Image

Draft weightings

now

10

was

1

Flash Fire

Image

Draft weightings

now

10

was

6

Forge Wolf

Image

Draft weightings

now

1

was

1

Furnace Mage

Image

Draft weightings

now

1

was

6

Granite Acolyte

Image

Draft weightings

now

1

was

1

Harmony of Flame

Image

Draft weightings

now

5

was

1

Helpful Doorbot

Image

Draft weightings

now

5

was

1

Kaleb's Favor

Image

Draft weightings

now

5

was

1

Kennelmaster

Image

Draft weightings

now

1

was

1

Light the Fuse

Image

Draft weightings

now

1

was

1

Magma Javelin

Image

Draft weightings

now

1

was

1

Morningstar

Image

Draft weightings

now

1

was

1

Outlands Sniper

Image

Draft weightings

now

1

was

6

Piercing Shot

Image

Draft weightings

now

1

was

1

Pit Fighter

Image

Draft weightings

now

5

was

1

Pyre Adept

Image

Draft weightings

now

1

was

1

Rally

Image

Draft weightings

now

10

was

1

Rampage

Image

Draft weightings

now

5

was

6

Razorwire Totemite

Image

Draft weightings

now

5

was

1

Rebel Illuminator

Image

Draft weightings

now

1

was

1

Rebel Sharpshooter

Image

Draft weightings

now

5

was

6

Recogulator

Image

Draft weightings

now

1

was

1

Refracted Sentinel

Image

Draft weightings

now

10

was

6

Ruin

Image

Draft weightings

now

5

was

1

Shavka Evangel

Image

Draft weightings

now

10

was

6

Shiftstone Processor

Image

Draft weightings

now

1

was

1

Skyfire Hellkite

Image

Draft weightings

now

10

was

1

Steelbound Dragon

Image

Draft weightings

now

1

was

1

Steelfang Chakram

Image

Draft weightings

now

1

was

6

Stonescar Maul

Image

Draft weightings

now

1

was

1

Stonesmelt Dragon

Image

Draft weightings

now

1

was

1

Ticking Grenadin

Image

Draft weightings

now

1

was

1

Tota Colony

Image

Draft weightings

now

10

was

6

Tumblebang

Image

Draft weightings

now

5

was

1

Worldpyre Phoenix

Image

Draft weightings

now

1

was

6
Time
Added
Alluring Qirin

Image

Draft weightings

now

1

was

-

Amber Waystone

Image

Draft weightings

now

10

was

-

Ancestral Oasis

Image

Draft weightings

now

5

was

-

Arcane Restraint

Image

Draft weightings

now

5

was

-

Baying Serasaur

Image

Draft weightings

now

10

was

-

Bhodi & Rox

Image

Draft weightings

now

1

was

-

Calibrate

Image

Draft weightings

now

1

was

-

Confiscate

Image

Draft weightings

now

5

was

-

Copper Conduit

Image

Draft weightings

now

5

was

-

Corpsebloom

Image

Draft weightings

now

1

was

-

Crack the Earth

Image

Draft weightings

now

10

was

-

Earth Conjuring

Image

Draft weightings

now

5

was

-

Envelop

Image

Draft weightings

now

5

was

-

Fantastic Revelation

Image

Draft weightings

now

5

was

-

First Watch

Image

Draft weightings

now

10

was

-

Friendly Wisp

Image

Draft weightings

now

10

was

-

Gentle Grazer

Image

Draft weightings

now

1

was

-

Gravewatch Ancestor

Image

Draft weightings

now

5

was

-

Grodov's Burden

Image

Draft weightings

now

1

was

-

Grodov's Stranger

Image

Draft weightings

now

1

was

-

Hall of Lost Kings

Image

Draft weightings

now

5

was

-

Humbug Nest

Image

Draft weightings

now

5

was

-

Inner-Peace Ascendant

Image

Draft weightings

now

1

was

-

Insatiable Serasaur

Image

Draft weightings

now

1

was

-

Invoke the Waystones

Image

Draft weightings

now

1

was

-

Lumen Defender

Image

Draft weightings

now

1

was

-

Lurking Raptors

Image

Draft weightings

now

1

was

-

Magnificent Stranger

Image

Draft weightings

now

1

was

-

Nahid's Distillation

Image

Draft weightings

now

5

was

-

Packbeast

Image

Draft weightings

now

5

was

-

Panoptic Guardian

Image

Draft weightings

now

10

was

-

Pause for Reflection

Image

Draft weightings

now

1

was

-

Platinum Qirin

Image

Draft weightings

now

1

was

-

Precision Plunge

Image

Draft weightings

now

1

was

-

Premonition Wisp

Image

Draft weightings

now

5

was

-

Rectifier

Image

Draft weightings

now

1

was

-

Reliquary Raider

Image

Draft weightings

now

1

was

-

Sand Viper

Image

Draft weightings

now

5

was

-

Sand Warrior

Image

Draft weightings

now

10

was

-

Sandstorm Titan

Image

Draft weightings

now

1

was

-

Sauropod Wrangler

Image

Draft weightings

now

10

was

-

Shardbinder

Image

Draft weightings

now

1

was

-

Shield of the Line

Image

Draft weightings

now

5

was

-

Sky Worshipper

Image

Draft weightings

now

1

was

-

Sunset Enforcer

Image

Draft weightings

now

1

was

-

Temple Scribe

Image

Draft weightings

now

1

was

-

The Praxis Arcanum

Image

Draft weightings

now

1

was

-

Tota Circle

Image

Draft weightings

now

1

was

-

Touch of Battle

Image

Draft weightings

now

5

was

-

Turn Back Time

Image

Draft weightings

now

5

was

-

Vital Arcana

Image

Draft weightings

now

5

was

-

Wandering Wisp

Image

Draft weightings

now

1

was

-

Waystone Gate

Image

Draft weightings

now

1

was

-
Removed
Amaran Armadillo

Image

Draft weightings

now

-

was

1

Amaran Shoveler

Image

Draft weightings

now

-

was

6

Amber Ring

Image

Draft weightings

now

-

was

1

Ancient Excavator

Image

Draft weightings

now

-

was

6

Anthem of Grodov

Image

Draft weightings

now

-

was

1

Antique Polisher

Image

Draft weightings

now

-

was

1

Araktodon Egg

Image

Draft weightings

now

-

was

6

Archive Curator

Image

Draft weightings

now

-

was

1

Ark of Sol

Image

Draft weightings

now

-

was

1

Aspirant's Robes

Image

Draft weightings

now

-

was

1

Battle-Tested Stranger

Image

Draft weightings

now

-

was

3

Borderlands Lookout

Image

Draft weightings

now

-

was

1

Chant to Grodov

Image

Draft weightings

now

-

was

1

Clockroach

Image

Draft weightings

now

-

was

1

Decay

Image

Draft weightings

now

-

was

1

Determined Stranger

Image

Draft weightings

now

-

was

1

Devoted Theurge

Image

Dilphex Stalker

Image

Disjunction

Image

Draft weightings

now

-

was

1

Divining Rod

Image

Draft weightings

now

-

was

6

Eager Offering

Image

Draft weightings

now

-

was

6

Edict of Grodov

Image

Draft weightings

now

-

was

1

Emblem of Grodov

Image

Draft weightings

now

-

was

6

Emerging Colossus

Image

Draft weightings

now

-

was

1

Ephemeral Wisp

Image

Draft weightings

now

-

was

1

Etched Monolith

Image

Draft weightings

now

-

was

1

Ghar, Master Sandmage

Image

Draft weightings

now

-

was

1

Gnash, Pridemaster

Image

Draft weightings

now

-

was

1

Gnash, Unrelenting

Image

Draft weightings

now

-

was

1

Grodov's Favored

Image

Draft weightings

now

-

was

1

High Prophet of Sol

Image

Draft weightings

now

-

was

1

Horn of Plenty

Image

Draft weightings

now

-

was

6

Idol of Destran

Image

Draft weightings

now

-

was

1

Illumination Wisp

Image

Draft weightings

now

-

was

1

Infinite Hourglass

Image

Draft weightings

now

-

was

6

Initiation Bell

Image

Draft weightings

now

-

was

6

Insistent Automaton

Image

Draft weightings

now

-

was

6

Ixtol's Pendant

Image

Ixtol, Champion of Grodov

Image

Jibbering Jackal

Image

Draft weightings

now

-

was

1

Journey Guide

Image

Draft weightings

now

-

was

6

Last Rites

Image

Draft weightings

now

-

was

1

Living Example

Image

Draft weightings

now

-

was

1

Locust

Image

Draft weightings

now

-

was

1

Lucky Prospector

Image

Draft weightings

now

-

was

1

Lumen Reclaimer

Image

Draft weightings

now

-

was

1

Lumen Shepherd

Image

Draft weightings

now

-

was

1

Majestic Mandrake

Image

Draft weightings

now

-

was

6

Marisen, the Eldest

Image

Draft weightings

now

-

was

1

Mesmerized Moth

Image

Draft weightings

now

-

was

1

Moondial

Image

Draft weightings

now

-

was

6

Mountain Goliath

Image

Draft weightings

now

-

was

1

Ornamental Daggers

Image

Draft weightings

now

-

was

6

Perilous Research

Image

Draft weightings

now

-

was

1

Pit of Lenekta

Image

Draft weightings

now

-

was

1

Pompous Historian

Image

Draft weightings

now

-

was

6

Porcelain Mask

Image

Draft weightings

now

-

was

1

Power Stone

Image

Powerbreach Sentinel

Image

Draft weightings

now

-

was

6

Proselytize

Image

Draft weightings

now

-

was

6

Randori

Image

Draft weightings

now

-

was

1

Reap

Image

Draft weightings

now

-

was

6

Resolute Monk

Image

Draft weightings

now

-

was

1

Royal Guardian

Image

Draft weightings

now

-

was

1

Runic Protector

Image

Draft weightings

now

-

was

6

Sandbinder Sentinel

Image

Draft weightings

now

-

was

6

Sandstorm Scarf

Image

Draft weightings

now

-

was

6

Shepherd's Horn

Image

Draft weightings

now

-

was

6

Sirocco Glider

Image

Draft weightings

now

-

was

1

Spiketail Qirin

Image

Draft weightings

now

-

was

1

Submerged Titan

Image

Draft weightings

now

-

was

6

Swaying Sea Qirin

Image

Draft weightings

now

-

was

1

Talir, Unbound

Image

Draft weightings

now

-

was

1

Talir, Who Sees Beyond

Image

Draft weightings

now

-

was

1

Temple Artisan

Image

Draft weightings

now

-

was

1

Temple Captain

Image

Draft weightings

now

-

was

6

Temporal Distortion

Image

Draft weightings

now

-

was

1

Thrashing Dune Wurm

Image

Draft weightings

now

-

was

1

Time Flies

Image

Draft weightings

now

-

was

1

Tomb Protector

Image

Draft weightings

now

-

was

6

Twinbrood Sauropod

Image

Draft weightings

now

-

was

3

Unmake

Image

Draft weightings

now

-

was

6

Vapor Hut

Image

Draft weightings

now

-

was

6

Vault of the Praxis

Image

Draft weightings

now

-

was

6

Vinepetal Creeper

Image

Draft weightings

now

-

was

1

Voice of the Speaker

Image

Draft weightings

now

-

was

6

Water of Life

Image

Draft weightings

now

-

was

6

Waystone Fragment

Image

Draft weightings

now

-

was

6

Wilderness Refuge

Image

Draft weightings

now

-

was

6

Woda, Grodov's Listener

Image

Draft weightings

now

-

was

1

Wurmstone

Image

Draft weightings

now

-

was

6

Xultan Brushfang

Image

Draft weightings

now

-

was

1
Kept
Accelerated Impact

Image

Draft weightings

now

5

was

1

Ageless Mentor

Image

Draft weightings

now

1

was

1

Amber Acolyte

Image

Draft weightings

now

1

was

6

Ancient Lore

Image

Draft weightings

now

1

was

6

Ancient Terrazon

Image

Draft weightings

now

1

was

1

Ardent Convert

Image

Draft weightings

now

5

was

1

Azurite Prixis

Image

Draft weightings

now

1

was

1

Belching Behemoth

Image

Draft weightings

now

5

was

1

Bold Adventurer

Image

Draft weightings

now

1

was

1

Cult Recruiter

Image

Draft weightings

now

10

was

1

Dawnwalker

Image

Draft weightings

now

10

was

1

Dune Phantom

Image

Draft weightings

now

10

was

1

Entrancer

Image

Draft weightings

now

1

was

1

Grodov Evangel

Image

Draft weightings

now

10

was

6

Healer's Cloak

Image

Draft weightings

now

1

was

6

Horned Vorlunk

Image

Draft weightings

now

1

was

1

Humbug

Image

Draft weightings

now

1

was

1

Humbug Swarm

Image

Draft weightings

now

5

was

1

Learned Herbalist

Image

Draft weightings

now

10

was

6

Merizo, Gladiator Hero

Image

Draft weightings

now

10

was

1

Mettle

Image

Draft weightings

now

5

was

1

Oasis Sanctuary

Image

Draft weightings

now

1

was

1

Praxis Displacer

Image

Draft weightings

now

1

was

1

Predator's Instinct

Image

Draft weightings

now

5

was

1

Predatory Carnosaur

Image

Draft weightings

now

5

was

1

Scorpion Wasp

Image

Draft weightings

now

5

was

1

Seasoned Spelunker

Image

Draft weightings

now

5

was

6

Secret Pages

Image

Draft weightings

now

5

was

1

Silence

Image

Draft weightings

now

1

was

1

Snapping Hydrangea

Image

Draft weightings

now

5

was

1

Sol's Rest

Image

Draft weightings

now

1

was

1

Striking Snake Formation

Image

Draft weightings

now

5

was

1

Swirl the Sands

Image

Draft weightings

now

1

was

1

Talir's Favored

Image

Draft weightings

now

5

was

1

Teleport

Image

Draft weightings

now

5

was

1

Timekeeper

Image

Draft weightings

now

10

was

6

Towering Terrazon

Image

Draft weightings

now

1

was

1

Towertop Patrol

Image

Draft weightings

now

1

was

1

Unlock Potential

Image

Draft weightings

now

1

was

1

Unraveling Fanatic

Image

Draft weightings

now

1

was

6

Wurmcalling

Image

Draft weightings

now

1

was

6

Xenan Guardian

Image

Draft weightings

now

1

was

1
Justice
Added
Argenport Soldier

Image

Draft weightings

now

1

was

-

Auric Weaponsmith

Image

Draft weightings

now

5

was

-

Barricade

Image

Draft weightings

now

5

was

-

Camoni, Dusk Rider

Image

Draft weightings

now

1

was

-

Copperhall Marshal

Image

Draft weightings

now

5

was

-

Copperhall Porter

Image

Draft weightings

now

10

was

-

Deafening Word

Image

Draft weightings

now

1

was

-

Defiance

Image

Draft weightings

now

5

was

-

Detain

Image

Draft weightings

now

5

was

-

Divebomb

Image

Draft weightings

now

1

was

-

Eloz, Nightmare General

Image

Draft weightings

now

1

was

-

Emerald Maw

Image

Draft weightings

now

1

was

-

Emerald Waystone

Image

Draft weightings

now

10

was

-

Enchanted Platemail

Image

Draft weightings

now

10

was

-

Ensnare

Image

Draft weightings

now

1

was

-

Fearless Crescendo

Image

Draft weightings

now

10

was

-

Fencing Master

Image

Draft weightings

now

10

was

-

Fur Hat

Image

Draft weightings

now

5

was

-

Hooru Envoy

Image

Draft weightings

now

5

was

-

Jadehorn

Image

Draft weightings

now

10

was

-

Kodosh's Armor

Image

Draft weightings

now

1

was

-

Kodosh's Stranger

Image

Draft weightings

now

1

was

-

Master's Blade

Image

Draft weightings

now

1

was

-

Miner's Canary

Image

Draft weightings

now

5

was

-

Minotaur Duelist

Image

Draft weightings

now

10

was

-

Mithril Paladin

Image

Draft weightings

now

5

was

-

Monument Curator

Image

Draft weightings

now

1

was

-

Outcast Elite

Image

Draft weightings

now

1

was

-

Peacekeeper's Prod

Image

Draft weightings

now

10

was

-

Pistolwhip

Image

Draft weightings

now

5

was

-

Promising Pupil

Image

Draft weightings

now

5

was

-

Purgedriver

Image

Draft weightings

now

5

was

-

Rabblerouser

Image

Draft weightings

now

10

was

-

Rageheart Paladin

Image

Draft weightings

now

1

was

-

Reinforced Baton

Image

Draft weightings

now

5

was

-

Reinforcements

Image

Draft weightings

now

5

was

-

Resounding Shockwave

Image

Draft weightings

now

5

was

-

Restrained Action

Image

Draft weightings

now

1

was

-

Siege Provisions

Image

Draft weightings

now

1

was

-

Sigvard, the Last Bastion

Image

Draft weightings

now

1

was

-

Sky King Storyteller

Image

Draft weightings

now

5

was

-

Spire Chaplain

Image

Draft weightings

now

1

was

-

Stalwart Silverwing

Image

Draft weightings

now

10

was

-

Steely Stranger

Image

Draft weightings

now

1

was

-

Timidity

Image

Draft weightings

now

1

was

-

Touch of Purity

Image

Draft weightings

now

10

was

-

Town Watchman

Image

Draft weightings

now

5

was

-

Willbreaker

Image

Draft weightings

now

5

was

-

Wind Conjuring

Image

Draft weightings

now

5

was

-

Xulta Exile

Image

Draft weightings

now

1

was

-

Xultan Arbalest

Image

Draft weightings

now

5

was

-
Removed
Aali, Champion of Kodosh

Image

Aerial Spotter

Image

Draft weightings

now

-

was

6

Ageworn Vestige

Image

Draft weightings

now

-

was

1

Armorsmith

Image

Draft weightings

now

-

was

1

Avigraft

Image

Draft weightings

now

-

was

1

Bisma, Revered Elder

Image

Draft weightings

now

-

was

1

Chancellor's Horn

Image

Draft weightings

now

-

was

1

Civic Peacekeeper

Image

Draft weightings

now

-

was

1

Combrei Magister

Image

Draft weightings

now

-

was

1

Copperhall Paladin

Image

Crowd Queller

Image

Draft weightings

now

-

was

6

Crownwatch Captain

Image

Draft weightings

now

-

was

6

Curse of Taxation

Image

Draft weightings

now

-

was

1

Draw Strength

Image

Draft weightings

now

-

was

6

Edict of Kodosh

Image

Draft weightings

now

-

was

1

Emblem of Kodosh

Image

Draft weightings

now

-

was

6

Emerald Acolyte

Image

Draft weightings

now

-

was

1

Emerald Ring

Image

Draft weightings

now

-

was

1

Encouragement

Image

Draft weightings

now

-

was

6

Ezuzi, Kodosh's Listener

Image

Draft weightings

now

-

was

1

Fall Short

Image

Draft weightings

now

-

was

1

Forgemark Scrivener

Image

Draft weightings

now

-

was

1

Geomar, the Steel Tempest

Image

Draft weightings

now

-

was

1

Gilded Glaive

Image

Draft weightings

now

-

was

6

Golem Press

Image

Draft weightings

now

-

was

6

Graceful Calligrapher

Image

Draft weightings

now

-

was

1

Hanaka, Loremaster

Image

Draft weightings

now

-

was

1

Headhunter

Image

Draft weightings

now

-

was

1

Hexcaster

Image

Draft weightings

now

-

was

1

High Alert

Image

Draft weightings

now

-

was

6

Humble Instructor

Image

Draft weightings

now

-

was

1

Inflict Conscience

Image

Draft weightings

now

-

was

1

Inner Might

Image

Draft weightings

now

-

was

6

Kemmo's Blueprints

Image

Draft weightings

now

-

was

1

Kemmo, Ijin's Apprentice

Image

Draft weightings

now

-

was

1

Kodosh Sees All

Image

Draft weightings

now

-

was

1

Kosul Curator

Image

Draft weightings

now

-

was

6

Martyr's Chains

Image

Draft weightings

now

-

was

1

Mercy of Kodosh

Image

Draft weightings

now

-

was

1

Minotaur Oathkeeper

Image

Draft weightings

now

-

was

1

Minsod, the Peerless

Image

Draft weightings

now

-

was

1

Mistrust

Image

Draft weightings

now

-

was

1

Nivia's Inquisitor

Image

Draft weightings

now

-

was

6

Oni Stalwart

Image

Draft weightings

now

-

was

1

Order of the Spire

Image

Draft weightings

now

-

was

6

Paladin Oathbook

Image

Draft weightings

now

-

was

6

Peacekeeper's Helm

Image

Draft weightings

now

-

was

1

Plated Demolisher

Image

Draft weightings

now

-

was

1

Prancing Gryffyn

Image

Draft weightings

now

-

was

1

Press the Advantage

Image

Draft weightings

now

-

was

1

Rallying Banner

Image

Draft weightings

now

-

was

6

Reinforce

Image

Draft weightings

now

-

was

1

Reinvigorate

Image

Draft weightings

now

-

was

6

Rent Seeker

Image

Draft weightings

now

-

was

1

Reyna, the Unwavering

Image

Draft weightings

now

-

was

1

Righteous Intent

Image

Draft weightings

now

-

was

1

Rilgon's Disciple

Image

Draft weightings

now

-

was

6

Rolant, the Iron Fist

Image

Draft weightings

now

-

was

1

Seasoned Drillmaster

Image

Draft weightings

now

-

was

6

Shamebearer

Image

Draft weightings

now

-

was

1

Shen-Ra, Unbreakable

Image

Draft weightings

now

-

was

1

Silverwing Familiar

Image

Draft weightings

now

-

was

6

Siraf's Beacon

Image

Draft weightings

now

-

was

1

Solburst Scimitar

Image

Soothing Shortbeak

Image

Draft weightings

now

-

was

1

Soulflame Rider

Image

Draft weightings

now

-

was

6

Sparring Partner

Image

Draft weightings

now

-

was

1

Spellstrike Sorceress

Image

Draft weightings

now

-

was

6

Spire Spellsword

Image

Draft weightings

now

-

was

6

Spirit Guide

Image

Draft weightings

now

-

was

1

Spiritblade Stalker

Image

Draft weightings

now

-

was

1

Stalwart Shield

Image

Draft weightings

now

-

was

1

Steel-Eyed Pistoleer

Image

Draft weightings

now

-

was

6

Svetya's Sanctum

Image

Draft weightings

now

-

was

6

Sword of the Sky King

Image

Draft weightings

now

-

was

1

Talon of Nostrix

Image

Draft weightings

now

-

was

1

Tinker Overseer

Image

Draft weightings

now

-

was

1

Tireless Stranger

Image

Draft weightings

now

-

was

3

Tranquil Scholar

Image

Draft weightings

now

-

was

1

Treasury Guard

Image

Draft weightings

now

-

was

1

Twinstrike Master

Image

Unbreakable Alliance

Image

Draft weightings

now

-

was

1

Unseen Commando

Image

Draft weightings

now

-

was

6

Unseen Ghostblade

Image

Draft weightings

now

-

was

6

Valkyrie Aspirant

Image

Draft weightings

now

-

was

6

Valkyrie Justiciar

Image

Draft weightings

now

-

was

1

Valorous Stranger

Image

Draft weightings

now

-

was

3

Vanquish

Image

Draft weightings

now

-

was

1

Watchwing Conscript

Image

Whetstone

Image

Draft weightings

now

-

was

1

Xulta Foil

Image

Draft weightings

now

-

was

1

Xultan Paladin

Image

Draft weightings

now

-

was

1
Kept
Adjudicator's Gavel

Image

Draft weightings

now

1

was

1

Auric Sentry

Image

Draft weightings

now

1

was

6

Brightmace Paladin

Image

Draft weightings

now

5

was

6

Challenge by Law

Image

Draft weightings

now

5

was

1

Citywide Ban

Image

Draft weightings

now

1

was

1

Cleansing Rain

Image

Draft weightings

now

1

was

6

Copperhall Chancellor

Image

Draft weightings

now

1

was

1

Copperhall Recruit

Image

Draft weightings

now

1

was

1

Crownwatch Longsword

Image

Draft weightings

now

1

was

1

Crownwatch Paladin

Image

Draft weightings

now

1

was

6

Elder's Feather

Image

Draft weightings

now

1

was

1

Finest Hour

Image

Draft weightings

now

5

was

6

Fourth-Tree Elder

Image

Draft weightings

now

1

was

1

Ghostblade Outcast

Image

Draft weightings

now

5

was

6

Hammer of Authority

Image

Draft weightings

now

1

was

1

Heirloom Blade

Image

Draft weightings

now

10

was

6

Hero of the People

Image

Draft weightings

now

1

was

1

Hooru Fledgling

Image

Draft weightings

now

1

was

6

Isolate

Image

Draft weightings

now

5

was

1

Kira, the Prodigy

Image

Draft weightings

now

10

was

6

Kodosh Evangel

Image

Draft weightings

now

10

was

6

Last Stand at the Gate

Image

Draft weightings

now

1

was

1

Lay Siege

Image

Draft weightings

now

1

was

1

Longtail Cavalry

Image

Draft weightings

now

5

was

1

Loyal Watchwing

Image

Draft weightings

now

1

was

6

Mantle of Justice

Image

Draft weightings

now

10

was

6

Minotaur Grunt

Image

Draft weightings

now

1

was

1

Mithril Mace

Image

Draft weightings

now

1

was

1

Oni Samurai

Image

Draft weightings

now

1

was

1

Rebuke

Image

Draft weightings

now

5

was

1

Rolant's Favor

Image

Draft weightings

now

5

was

6

Rolant's Honor Guard

Image

Draft weightings

now

5

was

6

Silver Shortsword

Image

Draft weightings

now

5

was

1

Silverwing Commander

Image

Draft weightings

now

1

was

6

Stand Strong

Image

Draft weightings

now

5

was

6

Steadfast Deputy

Image

Draft weightings

now

1

was

1

Storm of Feathers

Image

Draft weightings

now

5

was

6

Tax Collector

Image

Draft weightings

now

1

was

1

Tinker Apprentice

Image

Draft weightings

now

1

was

1

Treasury Gate

Image

Draft weightings

now

1

was

1

Treasury Guard

Image

Draft weightings

now

1

was

1

Valkyrie Wings

Image

Draft weightings

now

1

was

1

Victor's Cry

Image

Draft weightings

now

10

was

6
Primal
Added
Abyssal Scrying

Image

Draft weightings

now

1

was

-

Big Brother

Image

Draft weightings

now

1

was

-

Biting Winds

Image

Draft weightings

now

1

was

-

Bookclub Yeti

Image

Draft weightings

now

1

was

-

Bottled Storm

Image

Draft weightings

now

1

was

-

Brood of Eremot

Image

Draft weightings

now

1

was

-

Brutal Frostlord

Image

Draft weightings

now

1

was

-

Cirso's Meddling

Image

Draft weightings

now

5

was

-

Cobalt Waystone

Image

Draft weightings

now

10

was

-

Cutbrush Cartographer

Image

Draft weightings

now

10

was

-

Double Helix Drake

Image

Draft weightings

now

10

was

-

Eilyn's Frostrider

Image

Draft weightings

now

5

was

-

Forlorn Gryffyn

Image

Draft weightings

now

1

was

-

Formbend

Image

Draft weightings

now

1

was

-

Frostbite Chrysalis

Image

Draft weightings

now

5

was

-

Galeprowler

Image

Draft weightings

now

10

was

-

Highsky Lookout

Image

Draft weightings

now

1

was

-

Ice Bolt

Image

Draft weightings

now

10

was

-

Icebow

Image

Draft weightings

now

5

was

-

Icequake

Image

Draft weightings

now

5

was

-

Icicle Marksman

Image

Draft weightings

now

10

was

-

Jarrall Iceheart

Image

Draft weightings

now

1

was

-

Linrei's Codex

Image

Draft weightings

now

1

was

-

Linrei's Kiss

Image

Draft weightings

now

5

was

-

Linrei's Stranger

Image

Draft weightings

now

1

was

-

Lumbering Gruan

Image

Draft weightings

now

10

was

-

Mind Link

Image

Draft weightings

now

1

was

-

Nesting Raven

Image

Draft weightings

now

1

was

-

Overlook Spotter

Image

Draft weightings

now

1

was

-

Plagued Gryffyn

Image

Draft weightings

now

1

was

-

Powderglider

Image

Draft weightings

now

10

was

-

Provoke the Dragons

Image

Draft weightings

now

1

was

-

Read the Stars

Image

Draft weightings

now

5

was

-

Regression

Image

Draft weightings

now

1

was

-

Runemarker

Image

Draft weightings

now

1

was

-

Savage Incursion

Image

Draft weightings

now

1

was

-

Savagery

Image

Draft weightings

now

5

was

-

Shapeshifter's Mask

Image

Draft weightings

now

1

was

-

Shiver

Image

Draft weightings

now

5

was

-

Solar Blast

Image

Draft weightings

now

1

was

-

Spellstorm Stranger

Image

Draft weightings

now

5

was

-

Static Discharge

Image

Draft weightings

now

1

was

-

Substitute

Image

Draft weightings

now

5

was

-

Tainted Mark

Image

Draft weightings

now

1

was

-

Tend the Flock

Image

Draft weightings

now

10

was

-

Touch of Wild

Image

Draft weightings

now

5

was

-

Transpose

Image

Draft weightings

now

10

was

-

Tundra Explorer

Image

Draft weightings

now

10

was

-

Uelo, Sky Tactician

Image

Draft weightings

now

1

was

-

Vernal Mandrake

Image

Draft weightings

now

1

was

-

Water Conjuring

Image

Draft weightings

now

5

was

-

Whispering Wind

Image

Draft weightings

now

1

was

-

Yeti Furflinger

Image

Draft weightings

now

5

was

-
Removed
Acantha's Outrider

Image

Draft weightings

now

-

was

1

Acquisitive Crow

Image

Draft weightings

now

-

was

1

Aeva, Eilyn's Elite

Image

Draft weightings

now

-

was

1

Blitrok, Linrei's Listener

Image

Draft weightings

now

-

was

1

Borderlands Waykeeper

Image

Draft weightings

now

-

was

1

Breeze Dancer

Image

Draft weightings

now

-

was

1

Brutish Interloper

Image

Draft weightings

now

-

was

1

Burr-Spore Fern

Image

Draft weightings

now

-

was

1

Cloudsnake Saddle

Image

Draft weightings

now

-

was

1

Clutch of Talons

Image

Draft weightings

now

-

was

1

Cobalt Ring

Image

Draft weightings

now

-

was

6

Court Mage

Image

Draft weightings

now

-

was

1

Cruelty

Image

Draft weightings

now

-

was

6

Daring Gryffyn

Image

Draft weightings

now

-

was

1

East-Wind Herald

Image

Draft weightings

now

-

was

1

Edict of Linrei

Image

Draft weightings

now

-

was

1

Eilyn's Intervention

Image

Draft weightings

now

-

was

1

Eilyn's Sanctum

Image

Draft weightings

now

-

was

6

Eilyn, Queen of the Wilds

Image

Draft weightings

now

-

was

1

Eilyn, the Rising Storm

Image

Draft weightings

now

-

was

1

Elvish Swindler

Image

Draft weightings

now

-

was

6

Emblem of Linrei

Image

Draft weightings

now

-

was

6

Enraged Araktodon

Image

Draft weightings

now

-

was

6

Eye of Winter

Image

Draft weightings

now

-

was

1

Fearstoker Raven

Image

Draft weightings

now

-

was

1

Fragility

Image

Draft weightings

now

-

was

1

Frost Talisman

Image

Draft weightings

now

-

was

1

Gift of Battle

Image

Draft weightings

now

-

was

6

Glacier Shaper

Image

Draft weightings

now

-

was

6

Greed's Reward

Image

Draft weightings

now

-

was

6

Greenstretch Empath

Image

Draft weightings

now

-

was

6

Gustrider

Image

Draft weightings

now

-

was

6

Hearty Stranger

Image

Draft weightings

now

-

was

3

Herald's Song

Image

Draft weightings

now

-

was

6

Hooru Teachings

Image

Icebreaker

Image

Draft weightings

now

-

was

6

Innate Conviction

Image

Draft weightings

now

-

was

1

Inspired Prank

Image

Draft weightings

now

-

was

1

Kenna, Shaman of the Scale

Image

Draft weightings

now

-

was

1

Larai, the Appraiser

Image

Draft weightings

now

-

was

1

Lens of Clarity

Image

Draft weightings

now

-

was

1

Lida's Apprentice

Image

Draft weightings

now

-

was

1

Lida, Most Skilled

Image

Draft weightings

now

-

was

1

Linrei's Protection

Image

Lys, Champion of Linrei

Image

Maelstrom Bell

Image

Draft weightings

now

-

was

1

Master Cartographer

Image

Draft weightings

now

-

was

6

Meditation Trainer

Image

Draft weightings

now

-

was

1

Mistveil Drake

Image

Draft weightings

now

-

was

1

North-Wind Herald

Image

Draft weightings

now

-

was

6

Numbing Cold

Image

Draft weightings

now

-

was

1

Pearlescent Drake

Image

Draft weightings

now

-

was

1

Pitfall Trap

Image

Draft weightings

now

-

was

6

Pokpok's Slingshot

Image

Draft weightings

now

-

was

6

Prodigious Sorcery

Image

Draft weightings

now

-

was

6

Quicksilver Mirror

Image

Draft weightings

now

-

was

1

Rainfall Accord

Image

Draft weightings

now

-

was

6

Rejection

Image

Draft weightings

now

-

was

1

Reverberating Strike

Image

Draft weightings

now

-

was

6

Rosebloom Mandrake

Image

Draft weightings

now

-

was

1

Sapphire Dragon

Image

Draft weightings

now

-

was

1

Second Sight

Image

Draft weightings

now

-

was

6

Shaluuk Captain

Image

Draft weightings

now

-

was

6

Sinister Opportunist

Image

Draft weightings

now

-

was

1

Skyhorror Draconus

Image

Draft weightings

now

-

was

1

Skyrider Vanguard

Image

Draft weightings

now

-

was

1

Skysnapper

Image

Draft weightings

now

-

was

1

Skywalk Instructor

Image

Draft weightings

now

-

was

1

Skyward Seer

Image

Draft weightings

now

-

was

1

Skywatch Zealot

Image

Draft weightings

now

-

was

1

Snowdrift Delver

Image

Draft weightings

now

-

was

1

Snowrager

Image

Draft weightings

now

-

was

6

Snowstorm Druid

Image

Draft weightings

now

-

was

1

Soaring Stranger

Image

Draft weightings

now

-

was

3

Socrato, Furyheart

Image

Draft weightings

now

-

was

1

South-Wind Herald

Image

Storm Spiral

Image

Draft weightings

now

-

was

1

Storm Talisman

Image

Draft weightings

now

-

was

1

Sunken Tower

Image

Draft weightings

now

-

was

1

Talon Dive

Image

Draft weightings

now

-

was

1

Temple Shihan

Image

Draft weightings

now

-

was

1

Thudrock, Arctic Artisan

Image

Draft weightings

now

-

was

1

Thunderclaw Raven

Image

Draft weightings

now

-

was

1

Thunderstrike Dragon

Image

Draft weightings

now

-

was

1

Tidal Forces

Image

Draft weightings

now

-

was

1

Tidecaller

Image

Draft weightings

now

-

was

6

Unseal

Image

Draft weightings

now

-

was

1

Unstable Form

Image

Draft weightings

now

-

was

6

Violent Gust

Image

Draft weightings

now

-

was

1

West-Wind Herald

Image

Draft weightings

now

-

was

6

Wild Cloudsnake

Image

Draft weightings

now

-

was

1

Yeti Gryffyn Rider

Image

Draft weightings

now

-

was

6

Yeti Snowslinger

Image

Draft weightings

now

-

was

1

Yeti Traditionalist

Image

Draft weightings

now

-

was

6

Yeti Troublemaker

Image

Draft weightings

now

-

was

1

Yetipult

Image
Kept
Aerial Battle

Image

Draft weightings

now

1

was

6

Araktodon

Image

Draft weightings

now

1

was

1

Backlash

Image

Draft weightings

now

1

was

1

Boltcrafter Shaman

Image

Draft weightings

now

10

was

1

Channel the Tempest

Image

Draft weightings

now

5

was

6

Cloudsnake Harrier

Image

Draft weightings

now

5

was

6

Cloudsnake Hatchling

Image

Draft weightings

now

1

was

1

Cobalt Acolyte

Image

Draft weightings

now

1

was

1

Crystallize

Image

Draft weightings

now

5

was

1

Death from Above

Image

Draft weightings

now

5

was

6

Eilyn's Favor

Image

Draft weightings

now

5

was

1

Flight of Makkar

Image

Draft weightings

now

1

was

1

Ice Sprite

Image

Draft weightings

now

5

was

6

Icy Gaze

Image

Draft weightings

now

5

was

6

Jarrall's Frostkin

Image

Draft weightings

now

5

was

1

Jump Kick

Image

Draft weightings

now

5

was

1

Levitate

Image

Draft weightings

now

5

was

1

Lightning Storm

Image

Draft weightings

now

10

was

6

Lightning Strike

Image

Draft weightings

now

5

was

1

Linrei Evangel

Image

Draft weightings

now

10

was

6

Magus of the Mist

Image

Draft weightings

now

1

was

1

Permafrost

Image

Draft weightings

now

1

was

1

Polymorph

Image

Draft weightings

now

5

was

1

Primal Incarnation

Image

Draft weightings

now

10

was

6

Psionic Savant

Image

Draft weightings

now

1

was

1

Rain of Frogs

Image

Draft weightings

now

1

was

1

Realitybreaker

Image

Draft weightings

now

1

was

1

Rimescale Draconus

Image

Draft weightings

now

1

was

1

Savage Denial

Image

Draft weightings

now

1

was

1

Scaly Gruan

Image

Draft weightings

now

1

was

1

Skycrag Wyvarch

Image

Draft weightings

now

1

was

1

Snowfort

Image

Draft weightings

now

1

was

1

Staff of Stories

Image

Draft weightings

now

1

was

6

Swift Refusal

Image

Draft weightings

now

1

was

1

Thunderbird

Image

Draft weightings

now

1

was

1

Torgov, Icecap Trader

Image

Draft weightings

now

5

was

6

Vargo's Pelt

Image

Draft weightings

now

1

was

1

Windshaper

Image

Draft weightings

now

1

was

1

Wisdom of the Elders

Image

Draft weightings

now

10

was

6

Yorja, The Tale Keeper

Image
Shadow
Added
Amethyst Waystone

Image

Draft weightings

now

10

was

-

Annihilate

Image

Draft weightings

now

1

was

-

Aurapiercer

Image

Draft weightings

now

1

was

-

Bloodwolf

Image

Draft weightings

now

5

was

-

Cabal Countess

Image

Draft weightings

now

10

was

-

Condemn

Image

Draft weightings

now

10

was

-

Contaminating Ritual

Image

Draft weightings

now

1

was

-

Corrupt

Image

Draft weightings

now

1

was

-

Damara, Deft Saboteur

Image

Draft weightings

now

1

was

-

Dark Betrayal

Image

Draft weightings

now

5

was

-

Darkmask Stalker

Image

Draft weightings

now

1

was

-

Defile

Image

Draft weightings

now

5

was

-

Dizo, Cabal Chairman

Image

Elder Astrologer

Image

Draft weightings

now

5

was

-

Entranced Cultist

Image

Draft weightings

now

1

was

-

Fanatical Stranger

Image

Draft weightings

now

1

was

-

Feartracker

Image

Draft weightings

now

1

was

-

Felrauk's Infiltrator

Image

Draft weightings

now

1

was

-

Flamebathe Reformation

Image

Draft weightings

now

5

was

-

Gorgon Cutthroat

Image

Draft weightings

now

10

was

-

Harbinger's Bite

Image

Draft weightings

now

5

was

-

Induce Madness

Image

Draft weightings

now

1

was

-

Infused Strike

Image

Draft weightings

now

5

was

-

Karvet, Redeemed

Image

Draft weightings

now

1

was

-

Lunging Wisp

Image

Draft weightings

now

10

was

-

Lurking Sanguar

Image

Draft weightings

now

1

was

-

Makkar's Quiver

Image

Draft weightings

now

1

was

-

Makkar's Stranger

Image

Draft weightings

now

1

was

-

Malediction

Image

Draft weightings

now

5

was

-

Mysterious Waystone

Image

Draft weightings

now

5

was

-

Nullblade

Image

Draft weightings

now

1

was

-

Pack Conjuring

Image

Draft weightings

now

5

was

-

Pale Rider's Timepiece

Image

Draft weightings

now

1

was

-

Pilfer

Image

Draft weightings

now

5

was

-

Scheme

Image

Draft weightings

now

10

was

-

Skeletal Dragon

Image

Draft weightings

now

5

was

-

Sleepless Night

Image

Draft weightings

now

5

was

-

Slimespitter Slug

Image

Draft weightings

now

1

was

-

Spore-Spitter

Image

Draft weightings

now

1

was

-

Spur On

Image

Draft weightings

now

10

was

-

Stonescar Sneak

Image

Draft weightings

now

1

was

-

Succumb

Image

Draft weightings

now

1

was

-

Suffocate

Image

Draft weightings

now

5

was

-

Swear Vengeance

Image

Draft weightings

now

5

was

-

Switchblade Deadeye

Image

Draft weightings

now

1

was

-

Territorial Elf

Image

Draft weightings

now

1

was

-

The End is Near

Image

Draft weightings

now

1

was

-

Touch of Resilience

Image

Draft weightings

now

10

was

-

Triumphant Return

Image

Draft weightings

now

1

was

-

Two-Face

Image

Draft weightings

now

1

was

-

Unseen Longbow

Image

Draft weightings

now

1

was

-

Urgent Missive

Image

Draft weightings

now

5

was

-

Venomspine Hydra

Image

Draft weightings

now

1

was

-
Removed
Abduct

Image

Draft weightings

now

-

was

1

Amethyst Ring

Image

Draft weightings

now

-

was

6

Auric Captain

Image

Draft weightings

now

-

was

6

Auric Interrogator

Image

Auric Reclaimer

Image

Draft weightings

now

-

was

6

Azindel's Gift

Image

Draft weightings

now

-

was

1

Bandit's Flail

Image

Draft weightings

now

-

was

6

Banished Umbren

Image

Draft weightings

now

-

was

1

Beastcaller's Amulet

Image

Draft weightings

now

-

was

1

Befoul

Image

Draft weightings

now

-

was

1

Blood Beetle

Image

Draft weightings

now

-

was

1

Bloodseeker

Image

Draft weightings

now

-

was

1

Boot Knife

Image

Draft weightings

now

-

was

6