Cold Hunt Format Updates
Changes to Expedition and Draft Packs with the release of Eternal's newest set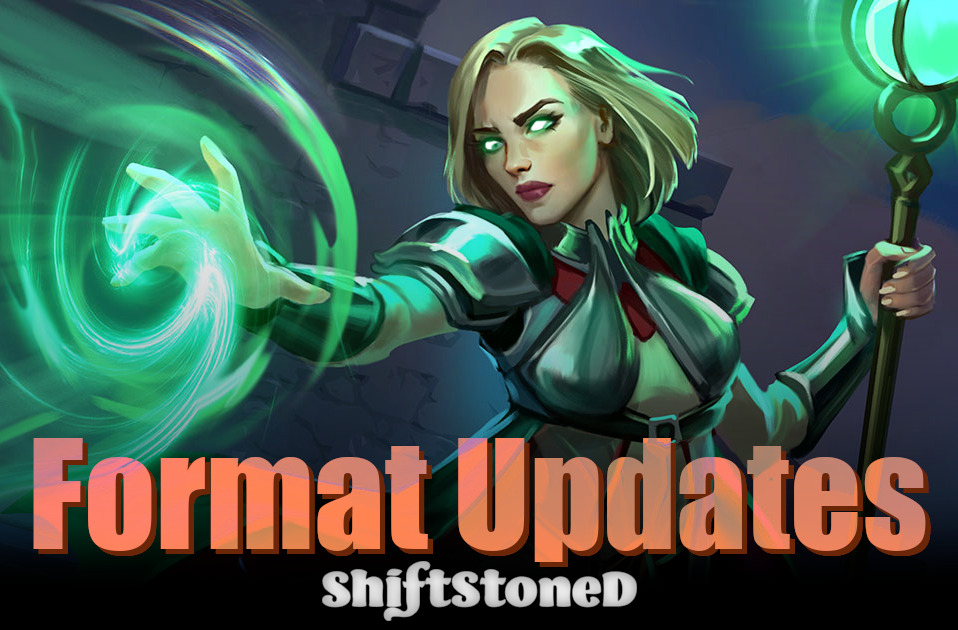 - Cold Hunt comes out today, and Dire Wolf Digital has redesigned the Eternal Draft Packs and Expedition to complement the new set. Our trusty Grenadin have processed the changes into this handy interactive gallery for you! Use the toggles below to switch format views, and to filter cards further.
Some notes:
The Expedition view does not include the following sets, which remain in the format in their entirety: Revelations (including its promos, from Javan, the Steel Crest onward), Hour of Glass, and the new set Cold Hunt (including its promos).
It does include changes to Empire of Glass (previously in the format in full), other Draft Pack updates, and any included pre-Revelations promos and older small sets.
The Draft Packs view only shows Draft Pack changes, between this new format and the previous format's September 2021 update (ignoring Cold Hunt's Draft Preview).
It also displays card weightings (the rate a card appears in draft—for example, cards with a 6x weighting are six times more likely to appear than cards with a 1x weighting at the same rarity).
Switching to the Draft Packs view displays additional filter options: toggles for each weighting, and weighting changes for cards kept in the Draft Pack.
The official list of current Draft Pack contents and Expedition-legal cards can always be found on DWD's site.
Fire
Added
Agile Strike

Image

Draft weightings

now

9

was

-

Awakened Instigator

Image

Draft weightings

now

1

was

-

Azrog, Streetbreaker

Image

Draft weightings

now

1

was

-

Blitz Stone

Image

Draft weightings

now

18

was

-

Bloodspear Footsoldier

Image

Draft weightings

now

18

was

-

Breath of Voprex

Image

Draft weightings

now

1

was

-

Callous Triggerman

Image

Draft weightings

now

3

was

-

Censari Brigand

Image

Draft weightings

now

3

was

-

Challenger's Axe

Image

Draft weightings

now

1

was

-

Coalscrounger

Image

Draft weightings

now

1

was

-

Core Scavenger

Image

Draft weightings

now

18

was

-

D'Angolo Houndmaster

Image

Draft weightings

now

1

was

-

Daring Maneuver

Image

Draft weightings

now

18

was

-

Detonation Cannon

Image

Draft weightings

now

1

was

-

Disassembler

Image

Draft weightings

now

1

was

-

Doomsday Assembly

Image

Draft weightings

now

1

was

-

Evoker

Image

Draft weightings

now

12

was

-

Fire Sketch

Image

Draft weightings

now

1

was

-

Gearcruncher

Image

Draft weightings

now

1

was

-

Gilded Flames

Image

Draft weightings

now

6

was

-

Grandfather's Axe

Image

Draft weightings

now

9

was

-

Granite Ring

Image

Draft weightings

now

6

was

-

Great-Kiln Titan

Image

Draft weightings

now

3

was

-

Heavy Axe

Image

Draft weightings

now

9

was

-

Hellfire Rifle

Image

Draft weightings

now

1

was

-

Hellfire Valkyrie

Image

Draft weightings

now

3

was

-

Iceberg Frontrunner

Image

Draft weightings

now

1

was

-

Iceberg Scattershot

Image

Draft weightings

now

12

was

-

Inoa's Fury

Image

Draft weightings

now

9

was

-

Kaleb's Intervention

Image

Draft weightings

now

1

was

-

Kaleb's Sanctum

Image

Draft weightings

now

3

was

-

Kazuo, Melee Virtuoso

Image

Draft weightings

now

3

was

-

Last Line Defender

Image

Draft weightings

now

12

was

-

Lava Burst

Image

Draft weightings

now

1

was

-

Mercenary Vanguard

Image

Draft weightings

now

1

was

-

Molten Fist

Image

Draft weightings

now

3

was

-

Oni Quartermaster

Image

Draft weightings

now

12

was

-

Pivotal Moment

Image

Draft weightings

now

1

was

-

Raging Jackal

Image

Draft weightings

now

12

was

-

Rampaging Commando

Image

Draft weightings

now

18

was

-

Rebel Illuminator

Image

Draft weightings

now

1

was

-

Recycle

Image

Draft weightings

now

6

was

-

Reforge

Image

Draft weightings

now

6

was

-

Retrofitted Sentinel

Image

Draft weightings

now

1

was

-

Roar of Defiance

Image

Draft weightings

now

1

was

-

Rocketblaster

Image

Draft weightings

now

1

was

-

Ruin

Image

Draft weightings

now

1

was

-

Rune of Flame

Image

Draft weightings

now

1

was

-

Sanity Scorcher

Image

Draft weightings

now

3

was

-

Sentinel Mold

Image

Draft weightings

now

6

was

-

Sentinel Sifter

Image

Draft weightings

now

18

was

-

Shingane Forge

Image

Draft weightings

now

1

was

-

Sindok, Rage Incarnate

Image

Draft weightings

now

3

was

-

Soaring Crasher

Image

Draft weightings

now

1

was

-

Spearfrenzy Warrior

Image

Draft weightings

now

18

was

-

Spiny Grenadin

Image

Draft weightings

now

1

was

-

Spitfire

Image

Draft weightings

now

1

was

-

Stonesmelt Dragon

Image

Draft weightings

now

3

was

-

Sureshot

Image

Draft weightings

now

3

was

-

Thunderhoof Warrior

Image

Draft weightings

now

1

was

-

Torch

Image

Draft weightings

now

9

was

-

Touch of Force

Image

Draft weightings

now

12

was

-

Unpredictable Outlaw

Image

Draft weightings

now

9

was

-

Warhorn

Image

Draft weightings

now

1

was

-

Wildfire Censari

Image

Draft weightings

now

12

was

-

Young Gun

Image

Draft weightings

now

9

was

-
Removed
Ankle Cutter

Image

Draft weightings

now

-

was

6

Arms Race

Image

Draft weightings

now

-

was

1

Ashen Snakepit

Image

Draft weightings

now

-

was

3

Autotread

Image

Draft weightings

now

-

was

1

Bad News

Image

Draft weightings

now

-

was

6

Barricade Basher

Image

Draft weightings

now

-

was

1

Beacon of War

Image

Draft weightings

now

-

was

1

Belax, the Ravenous

Image

Birthright

Image

Draft weightings

now

-

was

1

Bladekin Apprentice

Image

Draft weightings

now

-

was

3

Blinkwolf

Image

Draft weightings

now

-

was

6

Bloodboil Executioner

Image

Draft weightings

now

-

was

1

Bottoms Up

Image

Draft weightings

now

-

was

1

Brash Flamespewer

Image

Draft weightings

now

-

was

1

Burn Out

Image

Draft weightings

now

-

was

3

Cannonbearer

Image

Draft weightings

now

-

was

6

Cinder Sprite

Image

Draft weightings

now

-

was

6

Criva, the Crimson Scythe

Image

Draft weightings

now

-

was

3

D'Angolo Counterfeiter

Image

Draft weightings

now

-

was

1

D'Angolo Strongarm

Image

Draft weightings

now

-

was

3

Darkblade Cutpurse

Image

Draft weightings

now

-

was

1

Deheen Blitz

Image

Draft weightings

now

-

was

1

Dustblind

Image

Draft weightings

now

-

was

6

End of the Barrel

Image

Draft weightings

now

-

was

6

Feed the Flames

Image

Draft weightings

now

-

was

1

Fevered Scout

Image

Draft weightings

now

-

was

6

Fiery Fissure

Image

Draft weightings

now

-

was

12

First Flame

Image

Draft weightings

now

-

was

1

Flamebrewer

Image

Draft weightings

now

-

was

1

Flamepack Incinerator

Image

Draft weightings

now

-

was

1

Frontier Jito

Image

Draft weightings

now

-

was

1

Furnace Mage

Image

Draft weightings

now

-

was

6

Gaudy Showman

Image

Draft weightings

now

-

was

3

Gleaming Grenadin

Image

Draft weightings

now

-

was

3

Gloves of the Pyromancer

Image

Draft weightings

now

-

was

3

Gold Mine

Image

Draft weightings

now

-

was

6

Granite Monument

Image

Draft weightings

now

-

was

1

Grenade

Image

Draft weightings

now

-

was

6

Grenarender

Image

Draft weightings

now

-

was

3

Gun Down

Image

Draft weightings

now

-

was

3

Guns Blazing

Image

Draft weightings

now

-

was

3

Hardsight Cyclops

Image

Draft weightings

now

-

was

3

Heavy Artillery

Image

Draft weightings

now

-

was

1

Hidden Shiv

Image

Draft weightings

now

-

was

12

Hipshot

Image

Draft weightings

now

-

was

6

Hoof Slash

Image

Draft weightings

now

-

was

3

Horde Duelist

Image

Draft weightings

now

-

was

1

Hotblood Barbarian

Image

Draft weightings

now

-

was

12

Incineration

Image

Draft weightings

now

-

was

1

Inferno Dance

Image

Draft weightings

now

-

was

3

Into the Furnace

Image

Draft weightings

now

-

was

3

Izha Chi, Daredevil

Image

Draft weightings

now

-

was

6

Jawbone Greatsword

Image

Draft weightings

now

-

was

12

Kyoju Elevator

Image

Draft weightings

now

-

was

3

Laser Blast

Image

Draft weightings

now

-

was

1

Lavablood Goliath

Image

Draft weightings

now

-

was

1

Melt Down

Image

Draft weightings

now

-

was

1

Málaga Munitions

Image

Draft weightings

now

-

was

3

On the Hunt

Image

Draft weightings

now

-

was

1

Oni Eulogist

Image

Draft weightings

now

-

was

12

Oni Hybrid

Image

Draft weightings

now

-

was

1

Opum, the Gemblazer

Image

Draft weightings

now

-

was

3

Outlands Brute

Image

Draft weightings

now

-

was

6

Overloader

Image

Draft weightings

now

-

was

6

Passionate Stonehammer

Image

Draft weightings

now

-

was

1

Pesky Wirechewer

Image

Draft weightings

now

-

was

1

Phoenix Hammer

Image

Draft weightings

now

-

was

1

Phoenix Stone

Image

Draft weightings

now

-

was

1

Pillage

Image

Draft weightings

now

-

was

1

Pouncing Drake

Image

Draft weightings

now

-

was

6

Pyrotech Explosion

Image

Draft weightings

now

-

was

3

Redplate Crasher

Image

Draft weightings

now

-

was

1

Rika, Desert Navigator

Image

Draft weightings

now

-

was

6

Roaming Cache

Image

Draft weightings

now

-

was

1

Ruincrawler Yeti

Image

Draft weightings

now

-

was

1

Rust Grafter

Image

Draft weightings

now

-

was

1

Rusty Grenamotive

Image

Draft weightings

now

-

was

3

Scrapmetal Fury

Image

Draft weightings

now

-

was

3

Scythe Slash

Image

Draft weightings

now

-

was

3

Siege Breaker

Image

Draft weightings

now

-

was

6

Siege Supplier

Image

Draft weightings

now

-

was

1

Skyfire Hellkite

Image

Draft weightings

now

-

was

3

Slag

Image

Draft weightings

now

-

was

3

Stonescar Excavator

Image

Draft weightings

now

-

was

1

Trail Stories

Image

Draft weightings

now

-

was

3

Trailtorch Cinderpaw

Image

Draft weightings

now

-

was

1

Twinflame

Image

Draft weightings

now

-

was

12

Urn of Choking Embers

Image

Draft weightings

now

-

was

1

Wandering Forge

Image

Draft weightings

now

-

was

1
Kept
Blazing Renegade

Image

Draft weightings

now

1

was

1

Centaur Outrider

Image

Draft weightings

now

9

was

3

Centaur Raidleader

Image

Draft weightings

now

1

was

1

Char

Image

Draft weightings

now

1

was

1

Djang-li, the Misfit

Image

Draft weightings

now

3

was

1

Dusthoof Brawler

Image

Draft weightings

now

9

was

1

Factory Quota

Image

Draft weightings

now

3

was

1

Fire Sale

Image

Draft weightings

now

3

was

1

Firemane Cub

Image

Draft weightings

now

12

was

12

Flash Fire

Image

Draft weightings

now

1

was

1

Forge Wolf

Image

Draft weightings

now

9

was

1

General Izalio

Image

Draft weightings

now

3

was

1

Granite Acolyte

Image

Draft weightings

now

1

was

1

Helpful Doorbot

Image

Draft weightings

now

9

was

1

Improvised Rubbler

Image

Draft weightings

now

12

was

3

Kaleb's Favor

Image

Draft weightings

now

1

was

1

Kaleb, Claimless

Image

Draft weightings

now

3

was

3

Magma Javelin

Image

Draft weightings

now

9

was

3

Magmatic Sentinel

Image

Draft weightings

now

1

was

6

Miner's Musket

Image

Draft weightings

now

3

was

1

Morningstar

Image

Draft weightings

now

1

was

1

Oni Battledriver

Image

Draft weightings

now

6

was

6

Outlands Sniper

Image

Draft weightings

now

1

was

1

Parapet Sentry

Image

Draft weightings

now

1

was

1

Piercing Shot

Image

Draft weightings

now

6

was

1

Pyre Adept

Image

Draft weightings

now

1

was

1

Pyre Elemental

Image

Draft weightings

now

18

was

1

Rally

Image

Draft weightings

now

1

was

1

Rampage

Image

Draft weightings

now

1

was

1

Rebel Sharpshooter

Image

Draft weightings

now

9

was

1

Recogulator

Image

Draft weightings

now

1

was

3

Refracted Sentinel

Image

Draft weightings

now

1

was

1

Shiftstone Processor

Image

Draft weightings

now

3

was

1

Shingane Captain

Image

Draft weightings

now

3

was

1

Smith's Hammer

Image

Draft weightings

now

9

was

1

Sol's Fury

Image

Draft weightings

now

1

was

3

Steelbound Dragon

Image

Draft weightings

now

3

was

3

Steelfang Chakram

Image

Draft weightings

now

1

was

6

Stonepowder Heretic

Image

Draft weightings

now

6

was

6

Stonescar Maul

Image

Draft weightings

now

1

was

3

Ticking Grenadin

Image

Draft weightings

now

1

was

1

Tumblebang

Image

Draft weightings

now

6

was

1

Worldpyre Phoenix

Image

Draft weightings

now

3

was

1
Time
Added
Accelerate

Image

Draft weightings

now

18

was

-

Accelerated Impact

Image

Draft weightings

now

3

was

-

Ageless Sentinel

Image

Draft weightings

now

1

was

-

Amaran Archaeologist

Image

Draft weightings

now

1

was

-

Amber Ring

Image

Draft weightings

now

6

was

-

Araktodon Egg

Image

Draft weightings

now

18

was

-

Battlewise Elite

Image

Draft weightings

now

18

was

-

Behold the Truth

Image

Draft weightings

now

1

was

-

Blurred Stygimoloch

Image

Draft weightings

now

1

was

-

Bonemask

Image

Draft weightings

now

6

was

-

Borderlands Lookout

Image

Draft weightings

now

6

was

-

Bound by Oath

Image

Draft weightings

now

6

was

-

Cloaked Guide

Image

Draft weightings

now

9

was

-

Concealed Veteran

Image

Draft weightings

now

18

was

-

Confiscate

Image

Draft weightings

now

12

was

-

Conspire

Image

Draft weightings

now

1

was

-

Dashing Scoundrel

Image

Draft weightings

now

3

was

-

Divining Rod

Image

Draft weightings

now

3

was

-

Dormant Sentinel

Image

Draft weightings

now

18

was

-

Emerging Colossus

Image

Draft weightings

now

3

was

-

Envelop

Image

Draft weightings

now

9

was

-

Ephemeral Wisp

Image

Draft weightings

now

3

was

-

Etched Monolith

Image

Draft weightings

now

3

was

-

Etio, Chief Examiner

Image

Draft weightings

now

1

was

-

Friendly Wisp

Image

Draft weightings

now

1

was

-

Frontline Healer

Image

Draft weightings

now

1

was

-

Growing Sludge

Image

Draft weightings

now

6

was

-

Illuminator

Image

Draft weightings

now

1

was

-

Infuse with Venom

Image

Draft weightings

now

9

was

-

Kanya, Ironthorn Envoy

Image

Draft weightings

now

1

was

-

Maveloft Botanist

Image

Draft weightings

now

12

was

-

Meditative Trance

Image

Draft weightings

now

3

was

-

Mystic Ascendant

Image

Draft weightings

now

3

was

-

Nectar Snare Lotus

Image

Draft weightings

now

9

was

-

Nurturing Sentinel

Image

Draft weightings

now

18

was

-

Oasis Seeker

Image

Draft weightings

now

6

was

-

Open Way Supplier

Image

Draft weightings

now

1

was

-

Pillar of Amar

Image

Draft weightings

now

12

was

-

Pit of Lenekta

Image

Draft weightings

now

3

was

-

Populace Controller

Image

Draft weightings

now

1

was

-

Ravid, Insect Master

Image

Draft weightings

now

1

was

-

Reset the Day

Image

Draft weightings

now

1

was

-

Resolute Monk

Image

Draft weightings

now

12

was

-

Rowhammer

Image

Draft weightings

now

12

was

-

Rune of Relocation

Image

Draft weightings

now

1

was

-

Sanctuary Priest

Image

Draft weightings

now

9

was

-

Sandcrawler

Image

Draft weightings

now

9

was

-

Scorpion

Image

Draft weightings

now

18

was

-

Steward of Prophecy

Image

Draft weightings

now

1

was

-

Sticky Flytrap

Image

Draft weightings

now

12

was

-

Supply Lines

Image

Draft weightings

now

3

was

-

Tactical Expertise

Image

Draft weightings

now

1

was

-

Telekinetic Shackles

Image

Draft weightings

now

1

was

-

The Last Carnosaur

Image

Draft weightings

now

1

was

-

Thunderfist Striker

Image

Draft weightings

now

3

was

-

Time Sketch

Image

Draft weightings

now

1

was

-

Valiant Guardian

Image

Draft weightings

now

1

was

-

Vault of the Praxis

Image

Draft weightings

now

3

was

-
Removed
Amber Monument

Image

Draft weightings

now

-

was

1

Arcane Restraint

Image

Draft weightings

now

-

was

1

Archive Curator

Image

Draft weightings

now

-

was

6

Asri Scout

Image

Draft weightings

now

-

was

1

Ayur, Ageless Behemoth

Image

Draft weightings

now

-

was

1

Bastion Garrison

Image

Draft weightings

now

-

was

1

Battlefield Chanter

Image

Draft weightings

now

-

was

1

Blink

Image

Draft weightings

now

-

was

12

Camp Physician

Image

Draft weightings

now

-

was

6

Cast Out

Image

Draft weightings

now

-

was

1

Cobra Gear

Image

Draft weightings

now

-

was

6

Coretap Maximizer

Image

Draft weightings

now

-

was

1

Coveted Gemstone

Image

Draft weightings

now

-

was

1

Decay

Image

Draft weightings

now

-

was

1

Deft Strike

Image

Draft weightings

now

-

was

12

Desert Alchemist

Image

Draft weightings

now

-

was

3

Eager Offering

Image

Draft weightings

now

-

was

3

End of Days

Image

Draft weightings

now

-

was

6

Expand the Reach

Image

Draft weightings

now

-

was

1

Fair Exchange

Image

Draft weightings

now

-

was

3

Fierce Mosaraptor

Image

Draft weightings

now

-

was

6

Find the Way

Image

Draft weightings

now

-

was

3

Frenzied Omnivore

Image

Draft weightings

now

-

was

6

Gear Master

Image

Draft weightings

now

-

was

1

Glimpse the Possibilities

Image

Draft weightings

now

-

was

6

Gnash, Pridemaster

Image

Draft weightings

now

-

was

6

Goliath Flytrap

Image

Draft weightings

now

-

was

1

Gravetender

Image

Draft weightings

now

-

was

12

Humbug Swarm

Image

Draft weightings

now

-

was

3

Illumination Wisp

Image

Draft weightings

now

-

was

1

Initiation Bell

Image

Draft weightings

now

-

was

12

Invoke the Waystones

Image

Draft weightings

now

-

was

1

Learned Herbalist

Image

Draft weightings

now

-

was

12

Locust Hatcher

Image

Draft weightings

now

-

was

6

Lumen Defense

Image

Draft weightings

now

-

was

3

Lumen Reclaimer

Image

Draft weightings

now

-

was

3

Lumen Shepherd

Image

Draft weightings

now

-

was

1

Málaga League Diver

Image

Draft weightings

now

-

was

1

Onoris Roa

Image

Draft weightings

now

-

was

1

Ornamental Daggers

Image

Draft weightings

now

-

was

1

Overdrawn Harvester

Image

Draft weightings

now

-

was

1

Packbeast

Image

Draft weightings

now

-

was

3

Panoptic Guardian

Image

Draft weightings

now

-

was

3

Patience

Image

Draft weightings

now

-

was

1

Pensive Lumen

Image

Draft weightings

now

-

was

6

Plated Goliath

Image

Draft weightings

now

-

was

6

Pollensprayer

Image

Draft weightings

now

-

was

1

Promenade Patrol

Image

Draft weightings

now

-

was

3

Refresh

Image

Draft weightings

now

-

was

12

Refreshing Waters

Image

Draft weightings

now

-

was

12

Restorative Process

Image

Draft weightings

now

-

was

3

Rhum, First Constructor

Image

Draft weightings

now

-

was

1

Sand Tornado

Image

Draft weightings

now

-

was

1

Sandstorm Titan

Image

Draft weightings

now

-

was

1

Sauropod Crasher

Image

Draft weightings

now

-

was

6

Send an Envoy

Image

Draft weightings

now

-

was

1

Send for the Reserves

Image

Draft weightings

now

-

was

3

Shambling Sapsucker

Image

Draft weightings

now

-

was

1

Shield of the Line

Image

Draft weightings

now

-

was

3

Silver Titan

Image

Draft weightings

now

-

was

3

Sirocco Elementalist

Image

Draft weightings

now

-

was

1

Skyguard Sentinel

Image

Draft weightings

now

-

was

3

Slow

Image

Draft weightings

now

-

was

1

Snapping Hydrangea

Image

Draft weightings

now

-

was

1

Speed Grafter

Image

Draft weightings

now

-

was

3

Stakeout

Image

Draft weightings

now

-

was

1

Stinging Wind

Image

Draft weightings

now

-

was

3

Sudden Stampede

Image

Draft weightings

now

-

was

3

Swirl the Sands

Image

Draft weightings

now

-

was

3

Synchronized Strike

Image

Draft weightings

now

-

was

1

Talir, Timejumper

Image

Temple Captain

Image

Draft weightings

now

-

was

1

Temple Scribe

Image

Draft weightings

now

-

was

6

Temporal Adept

Image

Draft weightings

now

-

was

12

Temporal Distortion

Image

Draft weightings

now

-

was

6

The Great Kudzu

Image

Draft weightings

now

-

was

1

Trade Agreement

Image

Draft weightings

now

-

was

3

Trail Runner

Image

Draft weightings

now

-

was

1

Turn Back Time

Image

Draft weightings

now

-

was

3

Twinbrood Sauropod

Image

Draft weightings

now

-

was

3

Twinfang Cobra

Image

Draft weightings

now

-

was

1

Unexpected Arrival

Image

Draft weightings

now

-

was

1

Unraveling Fanatic

Image

Draft weightings

now

-

was

6

Vapor Hut

Image

Draft weightings

now

-

was

1

Vine Tangler

Image

Draft weightings

now

-

was

3

Water of Life

Image

Draft weightings

now

-

was

1

Wildgrowth Druid

Image

Draft weightings

now

-

was

6

Wurmic Chanter

Image

Draft weightings

now

-

was

12

Xenan Initiation

Image

Draft weightings

now

-

was

3

Xumuc Whisper

Image

Draft weightings

now

-

was

1
Kept
Ageless Mentor

Image

Draft weightings

now

1

was

1

Amber Acolyte

Image

Draft weightings

now

1

was

1

Amber Lock

Image

Draft weightings

now

9

was

3

Ancient Lore

Image

Draft weightings

now

1

was

6

Apprentice Mage

Image

Draft weightings

now

9

was

1

Azurite Prixis

Image

Draft weightings

now

3

was

6

Belching Behemoth

Image

Draft weightings

now

1

was

12

Bold Adventurer

Image

Draft weightings

now

9

was

3

Bolster

Image

Draft weightings

now

6

was

1

Copper Conduit

Image

Draft weightings

now

1

was

1

Disjunction

Image

Draft weightings

now

1

was

3

Dispel

Image

Draft weightings

now

9

was

3

Dissociate

Image

Draft weightings

now

6

was

1

Dune Phantom

Image

Draft weightings

now

12

was

3

Entrancer

Image

Draft weightings

now

1

was

3

Fresh Recruit

Image

Draft weightings

now

9

was

3

Glimpse Another Age

Image

Draft weightings

now

3

was

3

Healer's Cloak

Image

Draft weightings

now

1

was

1

Hesitate

Image

Draft weightings

now

1

was

3

Horn of Plenty

Image

Draft weightings

now

1

was

1

Horned Vorlunk

Image

Draft weightings

now

9

was

3

Humbug

Image

Draft weightings

now

1

was

3

Humbug Nest

Image

Draft weightings

now

1

was

1

Insatiable Serasaur

Image

Draft weightings

now

3

was

1

Locust

Image

Draft weightings

now

1

was

3

Lumen Defender

Image

Draft weightings

now

1

was

3

Marisen's Disciple

Image

Draft weightings

now

3

was

1

Oasis Sanctuary

Image

Draft weightings

now

9

was

3

Praxis Displacer

Image

Draft weightings

now

1

was

1

Predator's Instinct

Image

Draft weightings

now

9

was

1

Predatory Carnosaur

Image

Draft weightings

now

3

was

1

Reliquary Raider

Image

Draft weightings

now

3

was

1

Sandstorm Scarf

Image

Draft weightings

now

3

was

1

Scorpion Wasp

Image

Draft weightings

now

6

was

6

Secret Pages

Image

Draft weightings

now

1

was

1

Silence

Image

Draft weightings

now

1

was

6

Talir's Favored

Image

Draft weightings

now

1

was

3

Talir, Timeless

Image

Draft weightings

now

3

was

3

Teleport

Image

Draft weightings

now

18

was

1

Timekeeper

Image

Draft weightings

now

1

was

1

Tomb Protector

Image

Draft weightings

now

3

was

6

Towering Terrazon

Image

Draft weightings

now

1

was

6

Towertop Patrol

Image

Draft weightings

now

9

was

1

Unlock Potential

Image

Draft weightings

now

6

was

3

Wurmcalling

Image

Draft weightings

now

3

was

3

Xenan Guardian

Image

Draft weightings

now

1

was

6
Justice
Added
Armorsmith

Image

Draft weightings

now

1

was

-

Auren Brute

Image

Draft weightings

now

9

was

-

Auren Jailer

Image

Draft weightings

now

1

was

-

Auric Weaponsmith

Image

Draft weightings

now

6

was

-

Awakening

Image

Draft weightings

now

9

was

-

Citywide Ban

Image

Draft weightings

now

3

was

-

Civic Peacekeeper

Image

Draft weightings

now

18

was

-

Copperhall Marshal

Image

Draft weightings

now

18

was

-

Crackshot Fugitive

Image

Draft weightings

now

6

was

-

Crownwatch Cavalry

Image

Draft weightings

now

1

was

-

Crownwatch Legionnaire

Image

Draft weightings

now

18

was

-

Crownwatch Press-Gang

Image

Draft weightings

now

3

was

-

Custom Munitions

Image

Draft weightings

now

3

was

-

Defiance

Image

Draft weightings

now

6

was

-

Diplomatic Immunity

Image

Draft weightings

now

1

was

-

District Infantry

Image

Draft weightings

now

9

was

-

Emerald Acolyte

Image

Draft weightings

now

1

was

-

Emerald Ring

Image

Draft weightings

now

6

was

-

Endless Steps

Image

Draft weightings

now

3

was

-

Experimental Forcefield

Image

Draft weightings

now

3

was

-

Fall Short

Image

Draft weightings

now

9

was

-

Gates of Hope

Image

Draft weightings

now

3

was

-

Genius Combatant

Image

Draft weightings

now

18

was

-

Greatblade

Image

Draft weightings

now

1

was

-

Guardian Angel

Image

Draft weightings

now

3

was

-

Harsh Rule

Image

Draft weightings

now

3

was

-

Horngrinder

Image

Draft weightings

now

6

was

-

Inquisitive Alchemist

Image

Draft weightings

now

18

was

-

Inspire

Image

Draft weightings

now

1

was

-

Invisible Wall

Image

Draft weightings

now

12

was

-

Iron Priestess

Image

Draft weightings

now

3

was

-

Ironclad Oath

Image

Draft weightings

now

1

was

-

Justice Sketch

Image

Draft weightings

now

1

was

-

Kako, the Bodyguard

Image

Draft weightings

now

3

was

-

Kosul Bladebarrier

Image

Draft weightings

now

9

was

-

Ky, Awakened Master

Image

Draft weightings

now

3

was

-

Manacles

Image

Draft weightings

now

3

was

-

Master-at-Arms

Image

Draft weightings

now

1

was

-

Miner's Canary

Image

Draft weightings

now

18

was

-

Minotaur Duelist

Image

Draft weightings

now

1

was

-

Modready Drone

Image

Draft weightings

now

18

was

-

Offbook Officer

Image

Draft weightings

now

1

was

-

Overthrow

Image

Draft weightings

now

6

was

-

Pumpwerks Engineer

Image

Draft weightings

now

12

was

-

Rakano Sheriff

Image

Draft weightings

now

3

was

-

Recruitment Effort

Image

Draft weightings

now

1

was

-

Reinforce

Image

Draft weightings

now

1

was

-

Reliable Troops

Image

Draft weightings

now

1

was

-

Resounding Shockwave

Image

Draft weightings

now

6

was

-

Righteous Intent

Image

Draft weightings

now

3

was

-

Rotorsmith

Image

Draft weightings

now

1

was

-

Rune of Law

Image

Draft weightings

now

1

was

-

Shieldsmith

Image

Draft weightings

now

3

was

-

Sigvard, the Last Bastion

Image

Draft weightings

now

3

was

-

Sky Crew

Image

Draft weightings

now

18

was

-

Skysweeper

Image

Draft weightings

now

6

was

-

Stalwart Silverwing

Image

Draft weightings

now

9

was

-

Staunch Protector

Image

Draft weightings

now

1

was

-

Svetya's Bravery

Image

Draft weightings

now

6

was

-

Topple

Image

Draft weightings

now

1

was

-

Touch of Purity

Image

Draft weightings

now

12

was

-

Tower Inspector

Image

Draft weightings

now

6

was

-

Ursa Squadron

Image

Draft weightings

now

1

was

-

Valkyrie Aspirant

Image

Draft weightings

now

18

was

-

Valkyrie Bodyguard

Image

Draft weightings

now

12

was

-

Valkyrie Cadet

Image

Draft weightings

now

6

was

-

Valkyrie Militant

Image

Draft weightings

now

18

was

-

Valkyrie Station

Image

Draft weightings

now

6

was

-

Well-Laid Trap

Image

Draft weightings

now

6

was

-
Removed
Adjudicator's Gavel

Image

Draft weightings

now

-

was

3

Aerialist's Khopesh

Image

Draft weightings

now

-

was

1

Air Support

Image

Draft weightings

now

-

was

1

Arcane Defense

Image

Draft weightings

now

-

was

3

Argo Ironthorn

Image

Draft weightings

now

-

was

1

Auric Herdward

Image

Draft weightings

now

-

was

3

Barricade

Image

Draft weightings

now

-

was

3

Bastion Gatekeeper

Image

Draft weightings

now

-

was

1

Bring into Focus

Image

Draft weightings

now

-

was

1

Builder's Decree

Image

Draft weightings

now

-

was

3

Call On Allies

Image

Draft weightings

now

-

was

1

Controlled Demolition

Image

Draft weightings

now

-

was

1

Covenant Peacekeeper

Image

Draft weightings

now

-

was

6

Crownwatch Recruiter

Image

Draft weightings

now

-

was

6

Curse of Taxation

Image

Draft weightings

now

-

was

3

Daring Swordmaster

Image

Draft weightings

now

-

was

3

Defender's Bulwark

Image

Draft weightings

now

-

was

3

Dichro, Vindicated

Image

Draft weightings

now

-

was

3

Divebomb

Image

Draft weightings

now

-

was

3

Drifting Drone

Image

Draft weightings

now

-

was

1

Emerald Monument

Image

Draft weightings

now

-

was

1

Emerald Overcharger

Image

Draft weightings

now

-

was

1

Encouragement

Image

Draft weightings

now

-

was

12

End of the Story

Image

Draft weightings

now

-

was

6

Forge Sanitizer

Image

Draft weightings

now

-

was

3

From the Heavens

Image

Draft weightings

now

-

was

3

Gravity Glove

Image

Draft weightings

now

-

was

1

Grit

Image

Draft weightings

now

-

was

3

Guard Dog

Image

Draft weightings

now

-

was

12

Harmless Question

Image

Draft weightings

now

-

was

3

High Alert

Image

Draft weightings

now

-

was

6

Inner Might

Image

Draft weightings

now

-

was

1

Ironfist Archon

Image

Draft weightings

now

-

was

1

Ironfist Chancellor

Image

Draft weightings

now

-

was

6

Ironfist Faithful

Image

Draft weightings

now

-

was

12

Isolate

Image

Draft weightings

now

-

was

12

Jade Lodestone

Image

Draft weightings

now

-

was

1

Just Desserts

Image

Lay Siege

Image

Draft weightings

now

-

was

3

Learn the Truth

Image

Draft weightings

now

-

was

1

Lord Balancer Steyer

Image

Lord Steyer's Tower

Image

Draft weightings

now

-

was

6

Mark of Shame

Image

Draft weightings

now

-

was

1

Martial Efficiency

Image

Draft weightings

now

-

was

1

Martyr's Chains

Image

Draft weightings

now

-

was

1

Metalcraft Cadet

Image

Draft weightings

now

-

was

1

Mistrust

Image

Draft weightings

now

-

was

3

Oathkeeper's Hammer

Image

Draft weightings

now

-

was

1

Patroller's Glaive

Image

Draft weightings

now

-

was

1

Pistolwhip

Image

Draft weightings

now

-

was

3

Plate Grafter

Image

Draft weightings

now

-

was

1

Plea for Aid

Image

Draft weightings

now

-

was

3

Privilege of Rank

Image

Draft weightings

now

-

was

3

Protect

Image

Draft weightings

now

-

was

3

Rallying Banner

Image

Draft weightings

now

-

was

3

Regent's Blade

Image

Draft weightings

now

-

was

1

Resolute Paladin

Image

Draft weightings

now

-

was

3

Retribution

Image

Draft weightings

now

-

was

1

Saddle Up

Image

Draft weightings

now

-

was

6

Savior of the Meek

Image

Draft weightings

now

-

was

1

Seasoned Drillmaster

Image

Draft weightings

now

-

was

1

Send to Market

Image

Draft weightings

now

-

was

1

Shamebearer

Image

Draft weightings

now

-

was

1

Sharp Tactician

Image

Draft weightings

now

-

was

3

Sheriff Marley

Image

Draft weightings

now

-

was

6

Shock Troops

Image

Draft weightings

now

-

was

1

Sidestreet Monitor

Image

Draft weightings

now

-

was

1

Silverwing Augmentor

Image

Draft weightings

now

-

was

1

Silverwing Familiar

Image

Draft weightings

now

-

was

3

Silverwing Purgeleader

Image

Draft weightings

now

-

was

6

Steel Legion

Image

Draft weightings

now

-

was

1

Steyer's Beckoning

Image

Draft weightings

now

-

was

1

Stormhalt Warden

Image

Draft weightings

now

-

was

1

Strength of Many

Image

Draft weightings

now

-

was

1

Tayana, the Mender

Image

Throne Warden

Image

Draft weightings

now

-

was

1

Tinker Overseer

Image

Draft weightings

now

-

was

1

Titan Foundry

Image

Draft weightings

now

-

was

1

Touch of Grace

Image

Draft weightings

now

-

was

6

Twin Sai

Image

Draft weightings

now

-

was

3

Vicious Raildriver

Image

Draft weightings

now

-

was

1

Warrant Officer

Image

Draft weightings

now

-

was

12

Watchwing Support

Image

Draft weightings

now

-

was

1

Whetstone

Image

Draft weightings

now

-

was

1

Withstand

Image

Draft weightings

now

-

was

3

Workshop Tinker

Image

Draft weightings

now

-

was

12

Xultan Arbalest

Image

Draft weightings

now

-

was

1
Kept
Argenport Soldier

Image

Draft weightings

now

1

was

3

Auric Sentry

Image

Draft weightings

now

6

was

1

Avigraft

Image

Draft weightings

now

3

was

1

Brightmace Paladin

Image

Draft weightings

now

9

was

1

Challenge by Law

Image

Draft weightings

now

3

was

1

Copperhall Porter

Image

Draft weightings

now

1

was

1

Copperhall Recruit

Image

Draft weightings

now

1

was

1

Crownwatch Captain

Image

Draft weightings

now

3

was

3

Crownwatch Longsword

Image

Draft weightings

now

9

was

1

Crownwatch Paladin

Image

Draft weightings

now

1

was

1

Deafening Word

Image

Draft weightings

now

3

was

6

Detain

Image

Draft weightings

now

9

was

12

Elder's Feather

Image

Draft weightings

now

1

was

1

Emerald Maw

Image

Draft weightings

now

3

was

3

Ensnare

Image

Draft weightings

now

18

was

3

Fencing Master

Image

Draft weightings

now

6

was

1

Finest Hour

Image

Draft weightings

now

9

was

3

Fourth-Tree Elder

Image

Draft weightings

now

1

was

1

Heirloom Blade

Image

Draft weightings

now

12

was

1

Hero of the People

Image

Draft weightings

now

1

was

1

Hooru Fledgling

Image

Draft weightings

now

1

was

1

Kosul Battlemage

Image

Draft weightings

now

6

was

1

Loyal Watchwing

Image

Draft weightings

now

1

was

1

Mantle of Justice

Image

Draft weightings

now

1

was

1

Minotaur Grunt

Image

Draft weightings

now

1

was

1

Mithril Mace

Image

Draft weightings

now

1

was

1

Oni Samurai

Image

Draft weightings

now

1

was

1

Partnership Agreement

Image

Draft weightings

now

1

was

1

Rebuke

Image

Draft weightings

now

9

was

3

Reinforced Baton

Image

Draft weightings

now

1

was

3

Rolant's Favor

Image

Draft weightings

now

9

was

3

Rolant's Honor Guard

Image

Draft weightings

now

3

was

1

Rolant, Merciless

Image

Draft weightings

now

3

was

1

Silver Shortsword

Image

Draft weightings

now

1

was

3

Silverwing Commander

Image

Draft weightings

now

3

was

1

Spire Chaplain

Image

Draft weightings

now

3

was

3

Steadfast Deputy

Image

Draft weightings

now

18

was

1

Talon of Nostrix

Image

Draft weightings

now

1

was

1

Tinker Apprentice

Image

Draft weightings

now

1

was

3

Town Watchman

Image

Draft weightings

now

1

was

1

Treasury Guard

Image

Draft weightings

now

1

was

3

Valkyrie Justiciar

Image

Draft weightings

now

3

was

3

Valkyrie Spireguard

Image

Draft weightings

now

3

was

6

Valkyrie Wings

Image

Draft weightings

now

3

was

3
Primal
Added
Balm

Image

Draft weightings

now

6

was

-

Boiling Geyser

Image

Draft weightings

now

1

was

-

Bottled Insight

Image

Draft weightings

now

1

was

-

Brutal Frostlord

Image

Draft weightings

now

3

was

-

Cobalt Ring

Image

Draft weightings

now

6

was

-

Cover From the Storm

Image

Draft weightings

now

6

was

-

Crackling Bauble

Image

Draft weightings

now

3

was

-

Cyber Hyena

Image

Draft weightings

now

18

was

-

Cyber Skimmer

Image

Draft weightings

now

1

was

-

Davia, Azurebreaker

Image

Draft weightings

now

1

was

-

Distilled Rage

Image

Draft weightings

now

1

was

-

East-Wind Herald

Image

Draft weightings

now

9

was

-

First-Frost Shaman

Image

Draft weightings

now

18

was

-

Freight Asri

Image

Draft weightings

now

1

was

-

Galeprowler

Image

Draft weightings

now

9

was

-

Gnashing Displacer

Image

Draft weightings

now

18

was

-

Grizzled Guard

Image

Draft weightings

now

12

was

-

Hidden Crusader

Image

Draft weightings

now

3

was

-

Icebreaker

Image

Draft weightings

now

6

was

-

Icicle Marksman

Image

Draft weightings

now

12

was

-

Jotun Warrior

Image

Draft weightings

now

1

was

-

Jufi, Sprite Seer

Image

Draft weightings

now

3

was

-

Jump Kick

Image

Draft weightings

now

9

was

-

Magus of the Mist

Image

Draft weightings

now

1

was

-

Merciless Officer

Image

Draft weightings

now

1

was

-

Misthelm

Image

Draft weightings

now

3

was

-

North-Wind Herald

Image

Draft weightings

now

1

was

-

Numbing Cold

Image

Draft weightings

now

6

was

-

Obstructive Flicker

Image

Draft weightings

now

1

was

-

Plunged into the Sea

Image

Draft weightings

now

1

was

-

Powderglider

Image

Draft weightings

now

3

was

-

Primal Sketch

Image

Draft weightings

now

1

was

-

Quicksilver Mirror

Image

Draft weightings

now

3

was

-

Rabid Yeti

Image

Draft weightings

now

6

was

-

Reflector

Image

Draft weightings

now

3

was

-

Ridgeline Watcher

Image

Draft weightings

now

9

was

-

Rolling Fog

Image

Draft weightings

now

18

was

-

Rooted Observer

Image

Draft weightings

now

18

was

-

Rule the Skies

Image

Draft weightings

now

9

was

-

Rune of Trickery

Image

Draft weightings

now

1

was

-

Runic Transformation

Image

Draft weightings

now

3

was

-

Sapphire Dragon

Image

Draft weightings

now

1

was

-

Savagery

Image

Draft weightings

now

3

was

-

Serpent Trainer

Image

Draft weightings

now

9

was

-

Shockwave Elemental

Image

Draft weightings

now

12

was

-

Soaring Pennant

Image

Draft weightings

now

1

was

-

Stormtamer Operative

Image

Draft weightings

now

3

was

-

Tandem Shieldbearer

Image

Draft weightings

now

1

was

-

Tend the Flock

Image

Draft weightings

now

6

was

-

Thudrock, Arctic Artisan

Image

Draft weightings

now

3

was

-

Tormented Crown

Image

Draft weightings

now

3

was

-

Touch of Wild

Image

Draft weightings

now

6

was

-

Tundra Explorer

Image

Draft weightings

now

1

was

-

Unseal

Image

Draft weightings

now

1

was

-

Velise, Bear Rider

Image

Draft weightings

now

1

was

-

Voracious Fosora

Image

Draft weightings

now

1

was

-

West-Wind Herald

Image

Draft weightings

now

3

was

-

Wild Asri

Image

Draft weightings

now

9

was

-

Yeti Bully

Image

Draft weightings

now

9

was

-

Yeti Snowchucker

Image

Draft weightings

now

1

was

-

Yeti Spy

Image

Draft weightings

now

18

was

-
Removed
Aerial Battle

Image

Draft weightings

now

-

was

3

Borderlands Waykeeper

Image

Draft weightings

now

-

was

3

Cloudsnake Matriarch

Image

Draft weightings

now

-

was

12

Cobalt Monument

Image

Draft weightings

now

-

was

1

Courier Albatross

Image

Draft weightings

now

-

was

3

Crashing Avalanche

Image

Draft weightings

now

-

was

6

Cutbrush Cartographer

Image

Draft weightings

now

-

was

1

Cyber Combustion

Image

Draft weightings

now

-

was

1

Cyber Hound

Image

Draft weightings

now

-

was

3

Daru Lee

Image

Draft weightings

now

-

was

3

Deranged Dinomancer

Image

Draft weightings

now

-

was

1

Downdark Scrounger

Image

Draft weightings

now

-

was

1

Encroaching Vine

Image

Draft weightings

now

-

was

1

End of Hostilities

Image

Draft weightings

now

-

was

6

Entangling Vines

Image

Draft weightings

now

-

was

6

Exotic Purchase

Image

Draft weightings

now

-

was

1

Fearstoker Raven

Image

Draft weightings

now

-

was

3

Flash Freeze

Image

Draft weightings

now

-

was

1

Fledgling Owlet

Image

Draft weightings

now

-

was

12

Fluctuate Reality

Image

Draft weightings

now

-

was

3

Forbidden Tree

Image

Draft weightings

now

-

was

3

Frostbite

Image

Draft weightings

now

-

was

1

Frostbite Chrysalis

Image

Draft weightings

now

-

was

1

Frostclaw Rider

Image

Draft weightings

now

-

was

1

Frostwave

Image

Draft weightings

now

-

was

3

Gatecrash Trooper

Image

Draft weightings

now

-

was

3

Gelatinous Form

Image

Draft weightings

now

-

was

1

Ghastly Perfume

Image

Draft weightings

now

-

was

1

Good Idea at the Time

Image

Draft weightings

now

-

was

12

Gruanform

Image

Draft weightings

now

-

was

1

Hardiness

Image

Draft weightings

now

-

was

3

Herald's Song

Image

Draft weightings

now

-

was

1

Hold Under

Image

Draft weightings

now

-

was

6

Icequake

Image

Draft weightings

now

-

was

1

Icy Gaze

Image

Draft weightings

now

-

was

6

Invasive Species

Image

Draft weightings

now

-

was

3

Lens of Clarity

Image

Draft weightings

now

-

was

1

Lida's Apprentice

Image

Draft weightings

now

-

was

1

Little Seed

Image

Draft weightings

now

-

was

1

Mass Polymorph

Image

Draft weightings

now

-

was

12

Matriarch Zende

Image

Draft weightings

now

-

was

1

Maveloft Elite

Image

Draft weightings

now

-

was

6

Maveloft Quartermaster

Image

Draft weightings

now

-

was

6

Nesting Raven

Image

Draft weightings

now

-

was

12

Overmax Wand

Image

Draft weightings

now

-

was

1

Pitfall Trap

Image

Draft weightings

now

-

was

6

Plated Hookclaw

Image

Draft weightings

now

-

was

1

Portent Reader

Image

Draft weightings

now

-

was

12

Powerstone Compass

Image

Draft weightings

now

-

was

3

Rage Grafter

Image

Draft weightings

now

-

was

1

Read the Runes

Image

Draft weightings

now

-

was

3

Realign the Stars

Image

Draft weightings

now

-

was

6

Realitybreaker

Image

Draft weightings

now

-

was

1

Regression

Image

Draft weightings

now

-

was

6

Rejection

Image

Draft weightings

now

-

was

1

Replication Cell

Image

Draft weightings

now

-

was

3

Resurface

Image

Draft weightings

now

-

was

6

Riddle Game

Image

Draft weightings

now

-

was

1

Root Ripper

Image

Draft weightings

now

-

was

1

Scavenging Spikeback

Image

Draft weightings

now

-

was

12

Scrapfind Skimmer

Image

Shapeshifter's Mask

Image

Draft weightings

now

-

was

1

Snowfort Trumpeter

Image

Draft weightings

now

-

was

6

Snowrager

Image

Draft weightings

now

-

was

6

Sparking Vermin

Image

Draft weightings

now

-

was

1

Stalking Cyberfang

Image

Draft weightings

now

-

was

6

Storm Spiral

Image

Draft weightings

now

-

was

1

Strategize

Image

Draft weightings

now

-

was

3

Tactical Superiority

Image

Draft weightings

now

-

was

3

Thunderstrike Dragon

Image

Draft weightings

now

-

was

3

Thundrus & Snooze

Image

Draft weightings

now

-

was

1

Tidal Forces

Image

Draft weightings

now

-

was

6

Unstable Form

Image

Draft weightings

now

-

was

3

Valley-Clan Sage

Image

Draft weightings

now

-

was

1

Vicious Overgrowth

Image

Draft weightings

now

-

was

1

Wind Channeler

Image

Draft weightings

now

-

was

1

Yeti Troublemaker

Image

Draft weightings

now

-

was

3
Kept
Ancient Serpent

Image

Draft weightings

now

1

was

6

Araktodon

Image

Draft weightings

now

18

was

3

Backlash

Image

Draft weightings

now

9

was

3

Campfire Watchman

Image

Draft weightings

now

6

was

3

Channel the Tempest

Image

Draft weightings

now

3

was

1

Cloudsnake Hatchling

Image

Draft weightings

now

9

was

1

Cobalt Acolyte

Image

Draft weightings

now

1

was

1

Crystallize

Image

Draft weightings

now

3

was

1

Eilyn's Favor

Image

Draft weightings

now

1

was

6

Eilyn's Frostrider

Image

Draft weightings

now

1

was

3

Eilyn, Fearless

Image

Draft weightings

now

3

was

3

Flight of Makkar

Image

Draft weightings

now

3

was

1

Foothills Alpha

Image

Draft weightings

now

1

was

1

Formbend

Image

Draft weightings

now

3

was

6

Fragility

Image

Draft weightings

now

1

was

3

Hatchery Hunter

Image

Draft weightings

now

1

was

3

Ice Bolt

Image

Draft weightings

now

3

was

3

Ice Sprite

Image

Draft weightings

now

1

was

12

Icebow

Image

Draft weightings

now

1

was

3

Jarrall's Frostkin

Image

Draft weightings

now

1

was

3

Lethrai Secretweaver

Image

Draft weightings

now

6

was

3

Lightning Strike

Image

Draft weightings

now

9

was

12

Master Cartographer

Image

Draft weightings

now

1

was

6

Permafrost

Image

Draft weightings

now

6

was

3

Pinnacle of the Reach

Image

Draft weightings

now

3

was

3

Polymorph

Image

Draft weightings

now

6

was

3

Primal Incarnation

Image

Draft weightings

now

1

was

1

Psionic Savant

Image

Draft weightings

now

1

was

3

Rain of Frogs

Image

Draft weightings

now

3

was

1

Savage Denial

Image

Draft weightings

now

6

was

1

Scaly Gruan

Image

Draft weightings

now

1

was

1

Shaluuk Captain

Image

Draft weightings

now

3

was

1

Skimmer Wrangler

Image

Draft weightings

now

3

was

1

Skycrag Wyvarch

Image

Draft weightings

now

1

was

3

Staff of Stories

Image

Draft weightings

now

3

was

1

Stormcaller

Image

Draft weightings

now

12

was

3

Substitute

Image

Draft weightings

now

6

was

1

Thunderbird

Image

Draft weightings

now

1

was

1

Torgov, Icecap Trader

Image

Draft weightings

now

3

was

3

Violent Gust

Image

Draft weightings

now

18

was

3

Weather the Storm

Image

Draft weightings

now

9

was

12

Whispering Wind

Image

Draft weightings

now

3

was

1

Wild Cloudsnake

Image

Draft weightings

now

12

was

1

Wild Rider

Image

Draft weightings

now

1

was

3

Wind Cloak

Image

Draft weightings

now

6

was

3

Windshaper

Image

Draft weightings

now

6

was

1

Wisdom of the Elders

Image

Draft weightings

now

1

was

6

Yeti Snowslinger

Image

Draft weightings

now

18

was

1
Shadow
Added
Afflictor

Image

Draft weightings

now

1

was

-

Ambitious Mandevilla

Image

Draft weightings

now

1

was

-

Amethyst Ring

Image

Draft weightings

now

1

was

-

Ashara, Ruthless Assassin

Image

Draft weightings

now

3

was

-

Blood Beetle

Image

Draft weightings

now

1

was

-

Cabal Recruiter

Image

Draft weightings

now

6

was

-

Cat Burglar

Image

Draft weightings

now

1

was

-

Corrupt

Image

Draft weightings

now

3

was

-

Cripple

Image

Draft weightings

now

9

was

-

D'Angolo Might

Image

Draft weightings

now

1

was

-

Deepcover Operative

Image

Draft weightings

now

9

was

-

Desperado

Image

Draft weightings

now

6

was

-

Devastating Setback

Image

Draft weightings

now

3

was

-

Dreamsnatcher

Image

Draft weightings

now

3

was

-

Elding of the Final Hour

Image

Draft weightings

now

3

was

-

Fall to Ruin

Image

Draft weightings

now

3

was

-

Glen Pathcutter

Image

Draft weightings

now

1

was

-

Glensapper

Image

Draft weightings

now

1

was

-

Grave Robbery

Image

Draft weightings

now

12

was

-

Gunrustler

Image

Draft weightings

now

12

was

-

Heartstopper

Image

Draft weightings

now

3

was

-

Hypnotic Valkyrie

Image

Draft weightings

now

1

was

-

Improvised Club

Image

Draft weightings

now

18

was

-

Inciter of Madness

Image

Draft weightings

now

3

was

-

Leatherhide

Image

Draft weightings

now

18

was

-

Lethrai Bladewhirl

Image

Draft weightings

now

1

was

-

Lethrai Ranger

Image

Draft weightings

now

18

was

-

Lifedrinker

Image