Revelations Format Updates
Changes to Expedition and Draft Packs with the release of Eternal's newest set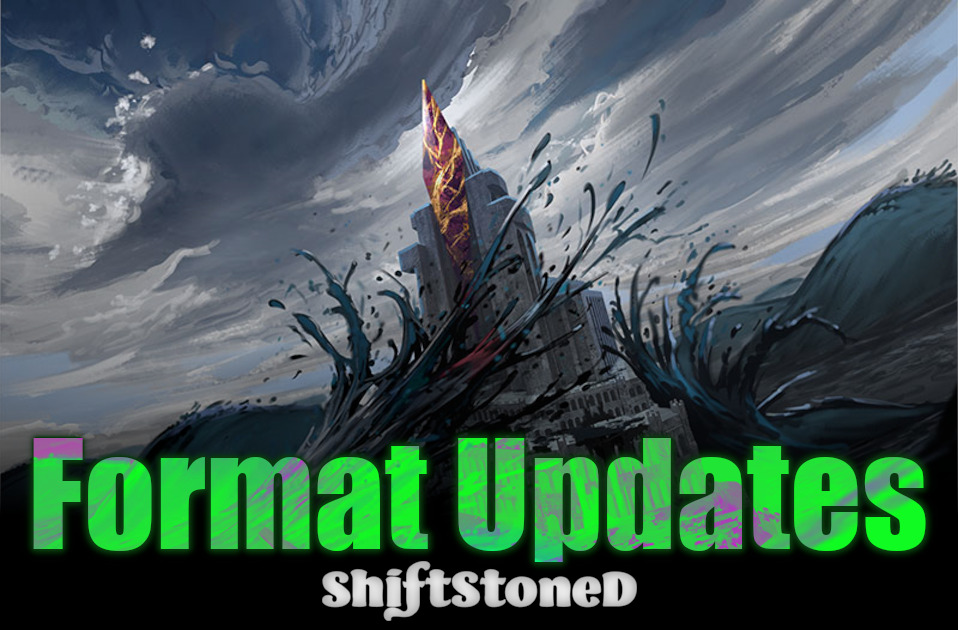 - Revelations was released today, and Dire Wolf Digital has redesigned the Eternal Draft Packs and Expedition to complement the new set. Our trusty Grenadin have processed the changes into this handy interactive gallery for you! Use the toggles below to switch format views, and to filter cards further.
A few notes:
The Expedition view does not include the following sets, which remain in the format in their entirety: Empire of Glass (including its promos, from Tayana, the Mender onward), Buried Memories, Stormbreak, and Revelations (including its promos).
It does include changes to Argent Depths (previously in the format in full), other Draft Pack updates, pre-Empire of Glass promos, and older small sets.
The Draft Packs view only shows Draft Pack changes, between this new format and the earlier format's April 2021 update (ignoring Revelations' Draft Preview).
It also displays card weightings (the rate a card appears in draft—for example, cards with a 5x weighting are five times more likely to appear than cards with a 1x weighting at the same rarity).
Switching to the Draft Packs view displays additional filter options: toggles for each weighting, and weighting changes for cards kept in the Draft Pack.
The official list of current Draft Pack contents and Expedition-legal cards can always be found on DWD's site.
Fire
Added
Ankle Cutter

Image

Draft weightings

now

10

was

-

Arms Race

Image

Draft weightings

now

5

was

-

Ashen Snakepit

Image

Draft weightings

now

10

was

-

Autotread

Image

Draft weightings

now

5

was

-

Barricade Basher

Image

Draft weightings

now

5

was

-

Beacon of War

Image

Draft weightings

now

5

was

-

Birthright

Image

Draft weightings

now

5

was

-

Bladekin Apprentice

Image

Draft weightings

now

10

was

-

Bloodboil Executioner

Image

Draft weightings

now

5

was

-

Brash Flamespewer

Image

Draft weightings

now

5

was

-

Cinder Sprite

Image

Draft weightings

now

10

was

-

Criva, the Crimson Scythe

Image

Draft weightings

now

10

was

-

D'Angolo Counterfeiter

Image

Draft weightings

now

5

was

-

D'Angolo Strongarm

Image

Draft weightings

now

10

was

-

Deheen Blitz

Image

Draft weightings

now

5

was

-

Djang-li, the Misfit

Image

Draft weightings

now

5

was

-

Fevered Scout

Image

Draft weightings

now

10

was

-

Fire Sale

Image

Draft weightings

now

5

was

-

First Flame

Image

Draft weightings

now

5

was

-

Flamebrewer

Image

Draft weightings

now

5

was

-

Flamepack Incinerator

Image

Draft weightings

now

5

was

-

Frontier Jito

Image

Draft weightings

now

5

was

-

Furnace Mage

Image

Draft weightings

now

20

was

-

Gaudy Showman

Image

Draft weightings

now

20

was

-

Gleaming Grenadin

Image

Draft weightings

now

10

was

-

Gloves of the Pyromancer

Image

Draft weightings

now

10

was

-

Gold Mine

Image

Draft weightings

now

20

was

-

Granite Monument

Image

Draft weightings

now

5

was

-

Grenade

Image

Draft weightings

now

10

was

-

Gun Down

Image

Draft weightings

now

20

was

-

Heavy Artillery

Image

Draft weightings

now

5

was

-

Hoof Slash

Image

Draft weightings

now

10

was

-

Horde Duelist

Image

Draft weightings

now

5

was

-

Hotblood Barbarian

Image

Draft weightings

now

10

was

-

Incineration

Image

Draft weightings

now

5

was

-

Inferno Dance

Image

Draft weightings

now

10

was

-

Izha Chi, Daredevil

Image

Draft weightings

now

20

was

-

Kyoju Elevator

Image

Draft weightings

now

10

was

-

Laser Blast

Image

Draft weightings

now

5

was

-

Málaga Munitions

Image

Draft weightings

now

10

was

-

On the Hunt

Image

Draft weightings

now

5

was

-

Oni Hybrid

Image

Draft weightings

now

5

was

-

Opum, the Gemblazer

Image

Draft weightings

now

10

was

-

Overloader

Image

Draft weightings

now

20

was

-

Passionate Stonehammer

Image

Draft weightings

now

5

was

-

Pesky Wirechewer

Image

Draft weightings

now

5

was

-

Pyre Elemental

Image

Draft weightings

now

10

was

-

Pyrotech Explosion

Image

Draft weightings

now

10

was

-

Redplate Crasher

Image

Draft weightings

now

5

was

-

Refracted Sentinel

Image

Draft weightings

now

5

was

-

Roaming Cache

Image

Draft weightings

now

5

was

-

Rust Grafter

Image

Draft weightings

now

5

was

-

Scrapmetal Fury

Image

Draft weightings

now

10

was

-

Scythe Slash

Image

Draft weightings

now

10

was

-

Shingane Captain

Image

Draft weightings

now

5

was

-

Siege Breaker

Image

Draft weightings

now

20

was

-

Siege Supplier

Image

Draft weightings

now

5

was

-

Skyfire Hellkite

Image

Draft weightings

now

10

was

-

Sol's Fury

Image

Draft weightings

now

5

was

-

Stonepowder Heretic

Image

Draft weightings

now

10

was

-

Stonescar Excavator

Image

Draft weightings

now

5

was

-

Trail Stories

Image

Draft weightings

now

10

was

-

Urn of Choking Embers

Image

Draft weightings

now

5

was

-
Removed
Ancient Defenses

Image

Draft weightings

now

-

was

10

Arcanum Battery

Image

Draft weightings

now

-

was

10

Armed and Dangerous

Image

Draft weightings

now

-

was

1

Assault Shield

Image

Draft weightings

now

-

was

5

Assembly Line

Image

Draft weightings

now

-

was

5

Badlands Survivalist

Image

Draft weightings

now

-

was

5

Begin Anew

Image

Draft weightings

now

-

was

1

Bladerang

Image

Draft weightings

now

-

was

1

Blazing Salvo

Image

Draft weightings

now

-

was

20

Brenn, Archmagister

Image

Draft weightings

now

-

was

1

Calderan Gunsmith

Image

Draft weightings

now

-

was

5

Cautious Traveler

Image

Draft weightings

now

-

was

10

Censari Brigand

Image

Draft weightings

now

-

was

10

Chemical Rounds

Image

Draft weightings

now

-

was

1

Coalscrounger

Image

Draft weightings

now

-

was

10

Combustion Cell

Image

Draft weightings

now

-

was

10

Conflagrate

Image

Draft weightings

now

-

was

5

Corrosive Dagger

Image

Draft weightings

now

-

was

5

Darkfyre

Image

Draft weightings

now

-

was

1

Disassembler

Image

Draft weightings

now

-

was

10

Dracoshaman Circlet

Image

Draft weightings

now

-

was

1

Dramatist's Mask

Image

Draft weightings

now

-

was

1

Dune Painter

Image

Draft weightings

now

-

was

20

Eager Deputy

Image

Draft weightings

now

-

was

1

Edict of Shavka

Image

Draft weightings

now

-

was

5

Ferno, Rageborn

Image

Draft weightings

now

-

was

1

Final Shot

Image

Draft weightings

now

-

was

1

Fire Etchings

Image

Draft weightings

now

-

was

20

Fire Symbol

Image

Draft weightings

now

-

was

1

Firemane Lioness

Image

Draft weightings

now

-

was

5

Flameheart Patroller

Image

Draft weightings

now

-

was

5

Flametail Whip

Image

Draft weightings

now

-

was

5

Forgeborn

Image

Draft weightings

now

-

was

10

From Within

Image

Draft weightings

now

-

was

1

Frontier Bard

Image

Draft weightings

now

-

was

10

Frontline Cyclops

Image

Draft weightings

now

-

was

10

Gleeful Firebrand

Image

Draft weightings

now

-

was

1

Gravemarker Oni

Image

Draft weightings

now

-

was

10

Grizzled Quickshot

Image

Draft weightings

now

-

was

1

Groundbreaker

Image

Draft weightings

now

-

was

10

Hellfire Rifle

Image

Draft weightings

now

-

was

10

Hordeleader

Image

Draft weightings

now

-

was

5

Ijin, Walking Armory

Image

Draft weightings

now

-

was

1

Incendiary Slagmite

Image

Draft weightings

now

-

was

10

Inner Fire

Image

Draft weightings

now

-

was

10

Ixtun Merchant

Image

Draft weightings

now

-

was

20

Kaleb's Intervention

Image

Draft weightings

now

-

was

10

Kaleb, Executioner

Image

Light the Fuse

Image

Draft weightings

now

-

was

1

Lord Ragnar

Image

Draft weightings

now

-

was

1

Midias, Leyline Dragon

Image

Draft weightings

now

-

was

1

Mightweaver

Image

Draft weightings

now

-

was

1

Moment of Triumph

Image

Draft weightings

now

-

was

5

Notorious Scoundrel

Image

Draft weightings

now

-

was

1

Oni Eulogist

Image

Draft weightings

now

-

was

10

Overheating Minibot

Image

Draft weightings

now

-

was

5

Pillage

Image

Draft weightings

now

-

was

1

Powderkeg Rider

Image

Draft weightings

now

-

was

10

Pyroknight

Image

Draft weightings

now

-

was

1

Rambot

Image

Draft weightings

now

-

was

10

Redmask Warrior

Image

Draft weightings

now

-

was

1

Reforge

Image

Draft weightings

now

-

was

5

Relentless Pursuit

Image

Draft weightings

now

-

was

5

Ruby Catalyst

Image

Draft weightings

now

-

was

1

Ruin

Image

Draft weightings

now

-

was

5

Ruinous Burst

Image

Draft weightings

now

-

was

10

Rust Machine

Image

Draft weightings

now

-

was

10

Scrap Heap

Image

Draft weightings

now

-

was

10

Scrap Hound

Image

Draft weightings

now

-

was

10

Shugo Standard

Image

Draft weightings

now

-

was

10

Siege Train

Image

Draft weightings

now

-

was

1

Skycrag Huntsman

Image

Draft weightings

now

-

was

10

Slagfury Berserker

Image

Draft weightings

now

-

was

10

Spitfire

Image

Draft weightings

now

-

was

5

Steamrider

Image

Draft weightings

now

-

was

5

Stonescar Sawed-Off

Image

Draft weightings

now

-

was

5

Surveilor

Image

Draft weightings

now

-

was

1

Tempered Sentinel

Image

Draft weightings

now

-

was

10

Temple Raider

Image

Draft weightings

now

-

was

5

Toppletower

Image

Draft weightings

now

-

was

10

Vadius, Proud Duelist

Image

Draft weightings

now

-

was

1

Valley of the Ancients

Image

Draft weightings

now

-

was

10

Volatile Grenadin

Image

Draft weightings

now

-

was

5

Warpainter

Image

Draft weightings

now

-

was

10

Zaxo Leviathan

Image

Draft weightings

now

-

was

1

Zuberi, Outlands Warlord

Image

Draft weightings

now

-

was

1
Kept
Blazing Renegade

Image

Draft weightings

now

5

was

1

Bottoms Up

Image

Draft weightings

now

5

was

10

Burn Out

Image

Draft weightings

now

10

was

1

Centaur Outrider

Image

Draft weightings

now

10

was

1

Centaur Raidleader

Image

Draft weightings

now

5

was

5

Char

Image

Draft weightings

now

5

was

1

Darkblade Cutpurse

Image

Draft weightings

now

5

was

5

Dusthoof Brawler

Image

Draft weightings

now

10

was

1

Factory Quota

Image

Draft weightings

now

5

was

1

Feed the Flames

Image

Draft weightings

now

20

was

5

Firemane Cub

Image

Draft weightings

now

20

was

5

Flash Fire

Image

Draft weightings

now

5

was

5

Forge Wolf

Image

Draft weightings

now

10

was

1

General Izalio

Image

Draft weightings

now

5

was

1

Granite Acolyte

Image

Draft weightings

now

10

was

1

Grenarender

Image

Draft weightings

now

10

was

5

Hardsight Cyclops

Image

Draft weightings

now

10

was

10

Helpful Doorbot

Image

Draft weightings

now

10

was

10

Improvised Rubbler

Image

Draft weightings

now

10

was

5

Into the Furnace

Image

Draft weightings

now

10

was

10

Kaleb's Favor

Image

Draft weightings

now

5

was

1

Kaleb, Claimless

Image

Draft weightings

now

10

was

1

Lavablood Goliath

Image

Draft weightings

now

5

was

1

Magma Javelin

Image

Draft weightings

now

10

was

5

Magmatic Sentinel

Image

Draft weightings

now

20

was

10

Miner's Musket

Image

Draft weightings

now

5

was

1

Morningstar

Image

Draft weightings

now

5

was

1

Oni Battledriver

Image

Draft weightings

now

10

was

1

Outlands Sniper

Image

Draft weightings

now

5

was

1

Parapet Sentry

Image

Draft weightings

now

5

was

10

Phoenix Hammer

Image

Draft weightings

now

5

was

10

Phoenix Stone

Image

Draft weightings

now

5

was

1

Piercing Shot

Image

Draft weightings

now

5

was

5

Pyre Adept

Image

Draft weightings

now

10

was

5

Rally

Image

Draft weightings

now

5

was

1

Rampage

Image

Draft weightings

now

5

was

5

Rebel Sharpshooter

Image

Draft weightings

now

5

was

1

Recogulator

Image

Draft weightings

now

10

was

5

Rusty Grenamotive

Image

Draft weightings

now

10

was

5

Shiftstone Processor

Image

Draft weightings

now

5

was

1

Slag

Image

Draft weightings

now

10

was

5

Smith's Hammer

Image

Draft weightings

now

5

was

5

Steelbound Dragon

Image

Draft weightings

now

10

was

1

Steelfang Chakram

Image

Draft weightings

now

20

was

1

Stonescar Maul

Image

Draft weightings

now

20

was

5

Ticking Grenadin

Image

Draft weightings

now

10

was

10

Trailtorch Cinderpaw

Image

Draft weightings

now

10

was

1

Tumblebang

Image

Draft weightings

now

5

was

5

Wandering Forge

Image

Draft weightings

now

20

was

10

Worldpyre Phoenix

Image

Draft weightings

now

5

was

1
Time
Added
Amber Lock

Image

Draft weightings

now

20

was

-

Amber Monument

Image

Draft weightings

now

5

was

-

Arcane Restraint

Image

Draft weightings

now

5

was

-

Archive Curator

Image

Draft weightings

now

10

was

-

Asri Scout

Image

Draft weightings

now

5

was

-

Ayur, Ageless Behemoth

Image

Draft weightings

now

5

was

-

Bastion Garrison

Image

Draft weightings

now

5

was

-

Battlefield Chanter

Image

Draft weightings

now

5

was

-

Cast Out

Image

Draft weightings

now

5

was

-

Cobra Gear

Image

Draft weightings

now

10

was

-

Coretap Maximizer

Image

Draft weightings

now

10

was

-

Coveted Gemstone

Image

Draft weightings

now

5

was

-

Decay

Image

Draft weightings

now

20

was

-

Disjunction

Image

Draft weightings

now

10

was

-

Dispel

Image

Draft weightings

now

10

was

-

Dissociate

Image

Draft weightings

now

10

was

-

Dune Phantom

Image

Draft weightings

now

20

was

-

Eager Offering

Image

Draft weightings

now

20

was

-

Entrancer

Image

Draft weightings

now

10

was

-

Expand the Reach

Image

Draft weightings

now

5

was

-

Fair Exchange

Image

Draft weightings

now

10

was

-

Frenzied Omnivore

Image

Draft weightings

now

5

was

-

Fresh Recruit

Image

Draft weightings

now

20

was

-

Glimpse Another Age

Image

Draft weightings

now

10

was

-

Goliath Flytrap

Image

Draft weightings

now

5

was

-

Hesitate

Image

Draft weightings

now

10

was

-

Humbug Swarm

Image

Draft weightings

now

10

was

-

Illumination Wisp

Image

Draft weightings

now

5

was

-

Invoke the Waystones

Image

Draft weightings

now

5

was

-

Learned Herbalist

Image

Draft weightings

now

20

was

-

Lumen Reclaimer

Image

Draft weightings

now

10

was

-

Lumen Shepherd

Image

Draft weightings

now

5

was

-

Málaga League Diver

Image

Draft weightings

now

5

was

-

Onoris Roa

Image

Draft weightings

now

5

was

-

Overdrawn Harvester

Image

Draft weightings

now

5

was

-

Packbeast

Image

Draft weightings

now

10

was

-

Patience

Image

Draft weightings

now

5

was

-

Pollensprayer

Image

Draft weightings

now

5

was

-

Promenade Patrol

Image

Draft weightings

now

10

was

-

Refresh

Image

Draft weightings

now

20

was

-

Restorative Process

Image

Draft weightings

now

10

was

-

Rhum, First Constructor

Image

Draft weightings

now

5

was

-

Send an Envoy

Image

Draft weightings

now

5

was

-

Send for the Reserves

Image

Draft weightings

now

10

was

-

Shambling Sapsucker

Image

Draft weightings

now

5

was

-

Silver Titan

Image

Draft weightings

now

5

was

-

Skyguard Sentinel

Image

Draft weightings

now

20

was

-

Slow

Image

Draft weightings

now

5

was

-

Speed Grafter

Image

Draft weightings

now

5

was

-

Stakeout

Image

Draft weightings

now

5

was

-

Stinging Wind

Image

Draft weightings

now

10

was

-

Synchronized Strike

Image

Draft weightings

now

5

was

-

Temple Captain

Image

Draft weightings

now

5

was

-

Temple Scribe

Image

Draft weightings

now

20

was

-

Temporal Distortion

Image

Draft weightings

now

20

was

-

The Great Kudzu

Image

Draft weightings

now

5

was

-

Trade Agreement

Image

Draft weightings

now

10

was

-

Trail Runner

Image

Draft weightings

now

10

was

-

Turn Back Time

Image

Draft weightings

now

10

was

-

Twinfang Cobra

Image

Draft weightings

now

5

was

-

Unexpected Arrival

Image

Draft weightings

now

5

was

-

Unraveling Fanatic

Image

Draft weightings

now

20

was

-

Vapor Hut

Image

Draft weightings

now

5

was

-

Vine Tangler

Image

Draft weightings

now

10

was

-

Xumuc Whisper

Image

Draft weightings

now

5

was

-
Removed
Accelerated Impact

Image

Draft weightings

now

-

was

5

Ageless Sentinel

Image

Draft weightings

now

-

was

10

Alhed, Mount Breaker

Image

Draft weightings

now

-

was

1

Amaran Armadillo

Image

Draft weightings

now

-

was

10

Amaran Shoveler

Image

Draft weightings

now

-

was

10

Ancient Bauble

Image

Draft weightings

now

-

was

5

Ancient Excavator

Image

Draft weightings

now

-

was

10

Ancient Machinist

Image

Draft weightings

now

-

was

10

Antique Polisher

Image

Draft weightings

now

-

was

10

Arcanum Hourglass

Image

Draft weightings

now

-

was

1

Auralian Merchant

Image

Draft weightings

now

-

was

20

Awaken the Ages

Image

Draft weightings

now

-

was

10

Battery Mage

Image

Draft weightings

now

-

was

1

Blurhaze Wurm

Image

Draft weightings

now

-

was

5

Brightling

Image

Draft weightings

now

-

was

1

Calibrate

Image

Draft weightings

now

-

was

10

Confiscate

Image

Draft weightings

now

-

was

5

Corpsebloom

Image

Draft weightings

now

-

was

10

Crack the Earth

Image

Draft weightings

now

-

was

20

Cryptic Master

Image

Draft weightings

now

-

was

10

Delay

Image

Draft weightings

now

-

was

1

Desert Alchemist

Image

Draft weightings

now

-

was

10

Desperate Courier

Image

Draft weightings

now

-

was

1

Dig Site

Image

Draft weightings

now

-

was

5

Disappear

Image

Draft weightings

now

-

was

1

Divining Rod

Image

Draft weightings

now

-

was

1

Dunediver

Image

Draft weightings

now

-

was

1

Edict of Grodov

Image

Draft weightings

now

-

was

5

Emerging Colossus

Image

Draft weightings

now

-

was

1

Epoch Infestation

Image

Draft weightings

now

-

was

1

Feral Mandrake

Image

Draft weightings

now

-

was

10

Forget

Image

Draft weightings

now

-

was

1

Friendly Wisp

Image

Draft weightings

now

-

was

10

From Below

Image

Draft weightings

now

-

was

5

Gravewatch Ancestor

Image

Draft weightings

now

-

was

10

Hall of Lost Kings

Image

Draft weightings

now

-

was

1

Hunting Allosaur

Image

Draft weightings

now

-

was

1

Idol of Destran

Image

Draft weightings

now

-

was

1

Inner-Peace Ascendant

Image

Draft weightings

now

-

was

5

Insistent Automaton

Image

Draft weightings

now

-

was

10

Inspiring Captain

Image

Draft weightings

now

-

was

10

Intriguing Ancient

Image

Draft weightings

now

-

was

10

Journey Guide

Image

Draft weightings

now

-

was

10

Land's Edge

Image

Draft weightings

now

-

was

1

Leyline Tracer

Image

Draft weightings

now

-

was

20

Living Example

Image

Draft weightings

now

-

was

10

Lucky Prospector

Image

Draft weightings

now

-

was

5

Maddening Whisper

Image

Draft weightings

now

-

was

10

Majestic Mandrake

Image

Draft weightings

now

-

was

10

Master Conjurer

Image

Draft weightings

now

-

was

5

Mesmerized Moth

Image

Draft weightings

now

-

was

5

Monk Innervator

Image

Draft weightings

now

-

was

1

Moonstone Vanguard

Image

Draft weightings

now

-

was

10

Omenscar Wurm

Image

Draft weightings

now

-

was

1

Pack Hunt

Image

Draft weightings

now

-

was

5

Pompous Historian

Image

Draft weightings

now

-

was

10

Porcelain Mask

Image

Draft weightings

now

-

was

5

Powerbreach Sentinel

Image

Draft weightings

now

-

was

10

Reality Snap

Image

Draft weightings

now

-

was

1

Rebuild

Image

Draft weightings

now

-

was

1

Sage of Sands

Image

Draft weightings

now

-

was

1

Sandbinder Sentinel

Image

Draft weightings

now

-

was

20

Sandstorm

Image

Draft weightings

now

-

was

10

Scourstone Sentinel

Image

Draft weightings

now

-

was

10

Seasoned Spelunker

Image

Draft weightings

now

-

was

10

Seed of Creation

Image

Draft weightings

now

-

was

1

Serene Excavator

Image

Draft weightings

now

-

was

10

Shadowlands Wanderer

Image

Draft weightings

now

-

was

1

Silent Hysteria

Image

Draft weightings

now

-

was

1

Sirocco Glider

Image

Draft weightings

now

-

was

10

Staff of Speed

Image

Draft weightings

now

-

was

1

Stirring Sand

Image

Draft weightings

now

-

was

10

Striking Snake Formation

Image

Draft weightings

now

-

was

5

Sustaining Harp

Image

Draft weightings

now

-

was

5

Swaying Sea Qirin

Image

Draft weightings

now

-

was

1

Talir's Intervention

Image

Draft weightings

now

-

was

10

Temple Standard

Image

Draft weightings

now

-

was

10

The Praxis Arcanum

Image

Draft weightings

now

-

was

1

Thrashing Dune Wurm

Image

Draft weightings

now

-

was

1

Time Etchings

Image

Draft weightings

now

-

was

20

Time Symbol

Image

Draft weightings

now

-

was

1

Touvon, Skybreak Giant

Image

Draft weightings

now

-

was

1

Trail Maker

Image

Draft weightings

now

-

was

1

Ubsat the Savior

Image

Draft weightings

now

-

was

1

Vinepetal Creeper

Image

Draft weightings

now

-

was

10

Waystone Gate

Image

Draft weightings

now

-

was

10

Wilderness Refuge

Image

Draft weightings

now

-

was

10

Worldly Cleric

Image

Draft weightings

now

-

was

5

Wurmstone

Image

Draft weightings

now

-

was

10
Kept
Ageless Mentor

Image

Draft weightings

now

5

was

1

Amber Acolyte

Image

Draft weightings

now

5

was

1

Ancient Lore

Image

Draft weightings

now

20

was

1

Apprentice Mage

Image

Draft weightings

now

5

was

1

Azurite Prixis

Image

Draft weightings

now

20

was

1

Belching Behemoth

Image

Draft weightings

now

20

was

1

Bold Adventurer

Image

Draft weightings

now

10

was

1

Bolster

Image

Draft weightings

now

5

was

1

Copper Conduit

Image

Draft weightings

now

5

was

10

Gear Master

Image

Draft weightings

now

5

was

10

Healer's Cloak

Image

Draft weightings

now

5

was

1

Horn of Plenty

Image

Draft weightings

now

5

was

5

Horned Vorlunk

Image

Draft weightings

now

10

was

1

Humbug

Image

Draft weightings

now

10

was

1

Humbug Nest

Image

Draft weightings

now

10

was

1

Initiation Bell

Image

Draft weightings

now

20

was

10

Insatiable Serasaur

Image

Draft weightings

now

5

was

1

Locust

Image

Draft weightings

now

10

was

1

Lumen Defender

Image

Draft weightings

now

10

was

1

Lumen Defense

Image

Draft weightings

now

10

was

1

Marisen's Disciple

Image

Draft weightings

now

5

was

1

Oasis Sanctuary

Image

Draft weightings

now

10

was

1

Panoptic Guardian

Image

Draft weightings

now

10

was

5

Praxis Displacer

Image

Draft weightings

now

5

was

1

Predator's Instinct

Image

Draft weightings

now

5

was

5

Predatory Carnosaur

Image

Draft weightings

now

5

was

1

Reliquary Raider

Image

Draft weightings

now

5

was

1

Sand Tornado

Image

Draft weightings

now

5

was

5

Sandstorm Scarf

Image

Draft weightings

now

5

was

5

Scorpion Wasp

Image

Draft weightings

now

20

was

1

Secret Pages

Image

Draft weightings

now

5

was

1

Shield of the Line

Image

Draft weightings

now

10

was

10

Silence

Image

Draft weightings

now

20

was

1

Sirocco Elementalist

Image

Draft weightings

now

5

was

10

Snapping Hydrangea

Image

Draft weightings

now

5

was

5

Swirl the Sands

Image

Draft weightings

now

10

was

10

Talir's Favored

Image

Draft weightings

now

10

was

1

Talir, Timeless

Image

Draft weightings

now

10

was

1

Teleport

Image

Draft weightings

now

5

was

5

Timekeeper

Image

Draft weightings

now

5

was

1

Tomb Protector

Image

Draft weightings

now

20

was

5

Towering Terrazon

Image

Draft weightings

now

10

was

1

Towertop Patrol

Image

Draft weightings

now

10

was

5

Unlock Potential

Image

Draft weightings

now

10

was

10

Wildgrowth Druid

Image

Draft weightings

now

20

was

10

Wurmcalling

Image

Draft weightings

now

10

was

1

Xenan Guardian

Image

Draft weightings

now

20

was

5
Justice
Added
Aerialist's Khopesh

Image

Draft weightings

now

5

was

-

Air Support

Image

Draft weightings

now

5

was

-

Arcane Defense

Image

Draft weightings

now

10

was

-

Argo Ironthorn

Image

Draft weightings

now

5

was

-

Auric Herdward

Image

Draft weightings

now

10

was

-

Barricade

Image

Draft weightings

now

10

was

-

Bastion Gatekeeper

Image

Draft weightings

now

5

was

-

Bring into Focus

Image

Draft weightings

now

5

was

-

Builder's Decree

Image

Draft weightings

now

10

was

-

Call On Allies

Image

Draft weightings

now

5

was

-

Controlled Demolition

Image

Draft weightings

now

5

was

-

Copperhall Porter

Image

Draft weightings

now

5

was

-

Covenant Peacekeeper

Image

Draft weightings

now

10

was

-

Crownwatch Captain

Image

Draft weightings

now

10

was

-

Daring Swordmaster

Image

Draft weightings

now

5

was

-

Defender's Bulwark

Image

Draft weightings

now

10

was

-

Detain

Image

Draft weightings

now

20

was

-

Dichro, Vindicated

Image

Draft weightings

now

10

was

-

Divebomb

Image

Draft weightings

now

10

was

-

Drifting Drone

Image

Draft weightings

now

5

was

-

Emerald Monument

Image

Draft weightings

now

5

was

-

Emerald Overcharger

Image

Draft weightings

now

10

was

-

Forge Sanitizer

Image

Draft weightings

now

10

was

-

From the Heavens

Image

Draft weightings

now

5

was

-

Gravity Glove

Image

Draft weightings

now

5

was

-

Harmless Question

Image

Draft weightings

now

20

was

-

Heirloom Blade

Image

Draft weightings

now

5

was

-

Inner Might

Image

Draft weightings

now

5

was

-

Isolate

Image

Draft weightings

now

20

was

-

Jade Lodestone

Image

Draft weightings

now

5

was

-

Kosul Battlemage

Image

Draft weightings

now

5

was

-

Lay Siege

Image

Draft weightings

now

10

was

-

Learn the Truth

Image

Draft weightings

now

5

was

-

Lord Steyer's Tower

Image

Draft weightings

now

20

was

-

Mark of Shame

Image

Draft weightings

now

5

was

-

Martial Efficiency

Image

Draft weightings

now

5

was

-

Martyr's Chains

Image

Draft weightings

now

5

was

-

Metalcraft Cadet

Image

Draft weightings

now

5

was

-

Partnership Agreement

Image

Draft weightings

now

5

was

-

Patroller's Glaive

Image

Draft weightings

now

5

was

-

Pistolwhip

Image

Draft weightings

now

20

was

-

Plate Grafter

Image

Draft weightings

now

5

was

-

Plea for Aid

Image

Draft weightings

now

10

was

-

Privilege of Rank

Image

Draft weightings

now

20

was

-

Protect

Image

Draft weightings

now

10

was

-

Regent's Blade

Image

Draft weightings

now

5

was

-

Reinforced Baton

Image

Draft weightings

now

10

was

-

Resolute Paladin

Image

Draft weightings

now

10

was

-

Saddle Up

Image

Draft weightings

now

10

was

-

Send to Market

Image

Draft weightings

now

5

was

-

Shamebearer

Image

Draft weightings

now

5

was

-

Sharp Tactician

Image

Draft weightings

now

10

was

-

Shock Troops

Image

Draft weightings

now

10

was

-

Sidestreet Monitor

Image

Draft weightings

now

5

was

-

Silverwing Familiar

Image

Draft weightings

now

10

was

-

Steyer's Beckoning

Image

Draft weightings

now

5

was

-

Stormhalt Warden

Image

Draft weightings

now

5

was

-

Strength of Many

Image

Draft weightings

now

5

was

-

Throne Warden

Image

Draft weightings

now

5

was

-

Tinker Overseer

Image

Draft weightings

now

5

was

-

Titan Foundry

Image

Draft weightings

now

5

was

-

Vicious Raildriver

Image

Draft weightings

now

5

was

-

Watchwing Support

Image

Draft weightings

now

5

was

-

Whetstone

Image

Draft weightings

now

5

was

-

Withstand

Image

Draft weightings

now

10

was

-

Workshop Tinker

Image

Draft weightings

now

20

was

-
Removed
Aerial Spotter

Image

Draft weightings

now

-

was

10

Audacious Ruse

Image

Draft weightings

now

-

was

1

Auric Official

Image

Draft weightings

now

-

was

5

Avigraft

Image

Draft weightings

now

-

was

5

Badge of Honor

Image

Draft weightings

now

-

was

5

Bouldergate Guard

Image

Draft weightings

now

-

was

10

Bring to Justice

Image

Draft weightings

now

-

was

5

Bubble Shield

Image

Draft weightings

now

-

was

1

Camouflaged Musket

Image

Draft weightings

now

-

was

1

Caravan Guard

Image

Draft weightings

now

-

was

1

Chainwhip Bludgeoner

Image

Draft weightings

now

-

was

1

Citywide Ban

Image

Draft weightings

now

-

was

5

Crown Patroller

Image

Draft weightings

now

-

was

10

Crown of Authority

Image

Draft weightings

now

-

was

1

Crownwatch Cavalry

Image

Draft weightings

now

-

was

1

Crownwatch Recruiter

Image

Draft weightings

now

-

was

10

Crownwatch Standard

Image

Draft weightings

now

-

was

10

Curfew Enforcement

Image

Draft weightings

now

-

was

5

Edict of Kodosh

Image

Draft weightings

now

-

was

5

Emerald Crafter

Image

Draft weightings

now

-

was

1

Emerald Ring

Image

Draft weightings

now

-

was

10

Emerald Spear

Image

Draft weightings

now

-

was

5

Enter the Monastery

Image

Draft weightings

now

-

was

1

Equalize

Image

Draft weightings

now

-

was

1

Fearless Crescendo

Image

Draft weightings

now

-

was

20

From Anguish

Image

Draft weightings

now

-

was

1

Frontline Volunteer

Image

Draft weightings

now

-

was

5

Gates of Hope

Image

Draft weightings

now

-

was

1

Geomar, the Steel Tempest

Image

Draft weightings

now

-

was

1

Golem Press

Image

Draft weightings

now

-

was

5

Greenstone Officer

Image

Draft weightings

now

-

was

1

Ground Crew

Image

Draft weightings

now

-

was

10

Hammer of Authority

Image

Draft weightings

now

-

was

1

Inspiring Leadership

Image

Draft weightings

now

-

was

5

Ironfist Chancellor

Image

Draft weightings

now

-

was

1

Ironfist Faithful

Image

Draft weightings

now

-

was

1

Justice Etchings

Image

Draft weightings

now

-

was

20

Justice Symbol

Image

Draft weightings

now

-

was

1

Kosul Diplomat

Image

Draft weightings

now

-

was

5

Kosul Elite

Image

Draft weightings

now

-

was

5

Kosul Recruit

Image

Draft weightings

now

-

was

10

Lieutenant Relia

Image

Makto, Valorous Savior

Image

Draft weightings

now

-

was

1

Massive Greatsword

Image

Draft weightings

now

-

was

1

Mercy of Kodosh

Image

Draft weightings

now

-

was

1

Monument Curator

Image

Draft weightings

now

-

was

10

New Order Watchwing

Image

Draft weightings

now

-

was

5

Nightwatch Broadsword

Image

Draft weightings

now

-

was

1

Noble Protector

Image

Draft weightings

now

-

was

5

Oskar, Chief Tinker

Image

Draft weightings

now

-

was

1

Paladin Oathbook

Image

Draft weightings

now

-

was

5

Prancing Gryffyn

Image

Draft weightings

now

-

was

1

Rabblerouser

Image

Draft weightings

now

-

was

5

Rageheart Paladin

Image

Draft weightings

now

-

was

10

Rampart Protector

Image

Draft weightings

now

-

was

10

Resounding Shockwave

Image

Draft weightings

now

-

was

5

Rolant's Fist

Image

Draft weightings

now

-

was

1

Rolant's Intervention

Image

Draft weightings

now

-

was

10

Rolant's Memorial

Image

Draft weightings

now

-

was

5

Sabre of Progress

Image

Draft weightings

now

-

was

5

Shard of the Spire

Image

Draft weightings

now

-

was

10

Siege Provisions

Image

Draft weightings

now

-

was

1

Sigvard, the Last Bastion

Image

Draft weightings

now

-

was

1

Silvercrest Purifier

Image

Draft weightings

now

-

was

1

Silverwing Purgeleader

Image

Draft weightings

now

-

was

10

Silverwing Smith

Image

Draft weightings

now

-

was

5

Siphoner Paladin

Image

Draft weightings

now

-

was

1

Smogwing Tinker

Image

Draft weightings

now

-

was

1

Solemn Clergy

Image

Draft weightings

now

-

was

1

Stalwart Silverwing

Image

Draft weightings

now

-

was

5

Svetya's Sanctum

Image

Draft weightings

now

-

was

5

Svetya, Lightbringer

Image

Draft weightings

now

-

was

1

Tandem Watchwing

Image

Draft weightings

now

-

was

5

Tavrod, Auric Financier

Image

Draft weightings

now

-

was

1

Telut, The Iron Gate

Image

Draft weightings

now

-

was

1

Touch of Purity

Image

Draft weightings

now

-

was

5

Treasury Gate

Image

Draft weightings

now

-

was

1

Trickshot Ruffian

Image

Draft weightings

now

-

was

1

Unbreakable Tradition

Image

Draft weightings

now

-

was

1

Unmoored Valkyrie

Image

Draft weightings

now

-

was

10

Valkyrie Arcanist

Image

Draft weightings

now

-

was

10

Valkyrie Cadet

Image

Draft weightings

now

-

was

5

Valkyrie Militant

Image

Draft weightings

now

-

was

10

Vanquish

Image

Draft weightings

now

-

was

10

Warrant Officer

Image

Draft weightings

now

-

was

10

Winchest Merchant

Image

Draft weightings

now

-

was

20
Kept
Adjudicator's Gavel

Image

Draft weightings

now

10

was

1

Argenport Soldier

Image

Draft weightings

now

10

was

5

Auric Sentry

Image

Draft weightings

now

5

was

5

Brightmace Paladin

Image

Draft weightings

now

5

was

1

Challenge by Law

Image

Draft weightings

now

5

was

1

Copperhall Recruit

Image

Draft weightings

now

5

was

1

Crownwatch Longsword

Image

Draft weightings

now

5

was

1

Crownwatch Paladin

Image

Draft weightings

now

5

was

1

Curse of Taxation

Image

Draft weightings

now

10

was

5

Deafening Word

Image

Draft weightings

now

20

was

10

Elder's Feather

Image

Draft weightings

now

10

was

1

Emerald Maw

Image

Draft weightings

now

10

was

1

Ensnare

Image

Draft weightings

now

20

was

10

Fencing Master

Image

Draft weightings

now

5

was

10

Finest Hour

Image

Draft weightings

now

20

was

5

Fourth-Tree Elder

Image

Draft weightings

now

5

was

1

Hero of the People

Image

Draft weightings

now

5

was

1

Hooru Fledgling

Image

Draft weightings

now

5

was

1

Ironfist Archon

Image

Draft weightings

now

5

was

5

Just Desserts

Image

Loyal Watchwing

Image

Draft weightings

now

5

was

10

Mantle of Justice

Image

Draft weightings

now

5

was

1

Minotaur Grunt

Image

Draft weightings

now

5

was

5

Mistrust

Image

Draft weightings

now

10

was

10

Mithril Mace

Image

Draft weightings

now

20

was

1

Oathkeeper's Hammer

Image

Draft weightings

now

5

was

1

Oni Samurai

Image

Draft weightings

now

5

was

1

Rallying Banner

Image

Draft weightings

now

10

was

5

Rebuke

Image

Draft weightings

now

20

was

5

Rolant's Favor

Image

Draft weightings

now

10

was

1

Rolant's Honor Guard

Image

Draft weightings

now

5

was

5

Rolant, Merciless

Image

Draft weightings

now

5

was

1

Savior of the Meek

Image

Draft weightings

now

5

was

1

Seasoned Drillmaster

Image

Draft weightings

now

5

was

5

Silver Shortsword

Image

Draft weightings

now

10

was

5

Silverwing Augmentor

Image

Draft weightings

now

5

was

5

Silverwing Commander

Image

Draft weightings

now

5

was

5

Spire Chaplain

Image

Draft weightings

now

10

was

1

Steadfast Deputy

Image

Draft weightings

now

10

was

5

Steel Legion

Image

Draft weightings

now

5

was

5

Talon of Nostrix

Image

Draft weightings

now

5

was

5

Tinker Apprentice

Image

Draft weightings

now

5

was

1

Town Watchman

Image

Draft weightings

now

5

was

1

Treasury Guard

Image

Draft weightings

now

10

was

1

Valkyrie Justiciar

Image

Draft weightings

now

10

was

10

Valkyrie Spireguard

Image

Draft weightings

now

20

was

5

Valkyrie Wings

Image

Draft weightings

now

10

was

1

Xultan Arbalest

Image

Draft weightings

now

20

was

5
Primal
Added
Backlash

Image

Draft weightings

now

10

was

-

Borderlands Waykeeper

Image

Draft weightings

now

20

was

-

Campfire Watchman

Image

Draft weightings

now

20

was

-

Cobalt Monument

Image

Draft weightings

now

5

was

-

Courier Albatross

Image

Draft weightings

now

5

was

-

Cutbrush Cartographer

Image

Draft weightings

now

5

was

-

Cyber Combustion

Image

Draft weightings

now

5

was

-

Cyber Hound

Image

Draft weightings

now

10

was

-

Daru Lee

Image

Draft weightings

now

10

was

-

Deranged Dinomancer

Image

Draft weightings

now

5

was

-

Downdark Scrounger

Image

Draft weightings

now

5

was

-

Encroaching Vine

Image

Draft weightings

now

5

was

-

Exotic Purchase

Image

Draft weightings

now

5

was

-

Fearstoker Raven

Image

Draft weightings

now

10

was

-

Flash Freeze

Image

Draft weightings

now

10

was

-

Flight of Makkar

Image

Draft weightings

now

5

was

-

Fluctuate Reality

Image

Draft weightings

now

10

was

-

Foothills Alpha

Image

Draft weightings

now

5

was

-

Forbidden Tree

Image

Draft weightings

now

10

was

-

Frostbite

Image

Draft weightings

now

10

was

-

Frostclaw Rider

Image

Draft weightings

now

5

was

-

Gatecrash Trooper

Image

Draft weightings

now

5

was

-

Gelatinous Form

Image

Draft weightings

now

5

was

-

Ghastly Perfume

Image

Draft weightings

now

5

was

-

Gruanform

Image

Draft weightings

now

5

was

-

Hardiness

Image

Draft weightings

now

10

was

-

Ice Bolt

Image

Draft weightings

now

10

was

-

Invasive Species

Image

Draft weightings

now

10

was

-

Lethrai Secretweaver

Image

Draft weightings

now

5

was

-

Lida's Apprentice

Image

Draft weightings

now

5

was

-

Little Seed

Image

Draft weightings

now

5

was

-

Matriarch Zende

Image

Draft weightings

now

5

was

-

Maveloft Elite

Image

Draft weightings

now

10

was

-

Maveloft Quartermaster

Image

Draft weightings

now

10

was

-

Nesting Raven

Image

Draft weightings

now

20

was

-

Overmax Wand

Image

Draft weightings

now

5

was

-

Pinnacle of the Reach

Image

Draft weightings

now

10

was

-

Pitfall Trap

Image

Draft weightings

now

10

was

-

Plated Hookclaw

Image

Draft weightings

now

5

was

-

Psionic Savant

Image

Draft weightings

now

10

was

-

Rage Grafter

Image

Draft weightings

now

5

was

-

Read the Runes

Image

Draft weightings

now

5

was

-

Realign the Stars

Image

Draft weightings

now

10

was

-

Realitybreaker

Image

Draft weightings

now

5

was

-

Rejection

Image

Draft weightings

now

5

was

-

Replication Cell

Image

Draft weightings

now

10

was

-

Riddle Game

Image

Draft weightings

now

5

was

-

Root Ripper

Image

Draft weightings

now

5

was

-

Shaluuk Captain

Image

Draft weightings

now

5

was

-

Skimmer Wrangler

Image

Draft weightings

now

5

was

-

Sparking Vermin

Image

Draft weightings

now

10

was

-

Stalking Cyberfang

Image

Draft weightings

now

20

was

-

Strategize

Image

Draft weightings

now

10

was

-

Substitute

Image

Draft weightings

now

10

was

-

Tactical Superiority

Image

Draft weightings

now

10

was

-

Thundrus & Snooze

Image

Draft weightings

now

5

was

-

Tidal Forces

Image

Draft weightings

now

20

was

-

Vicious Overgrowth

Image

Draft weightings

now

5

was

-

Weather the Storm

Image

Draft weightings

now

20

was

-

Wind Channeler

Image

Draft weightings

now

5

was

-

Yeti Snowslinger

Image

Draft weightings

now

5

was

-
Removed
Abyssal Scrying

Image

Draft weightings

now

-

was

10

Acantha's Outrider

Image

Draft weightings

now

-

was

5

Acrid Scorpion

Image

Draft weightings

now

-

was

10

Biting Winds

Image

Draft weightings

now

-

was

10

Boltcrafter Shaman

Image

Draft weightings

now

-

was

10

Bookclub Yeti

Image

Draft weightings

now

-

was

10

Breeze Dancer

Image

Draft weightings

now

-

was

1

Brilliant Idea

Image

Draft weightings

now

-

was

10

Burr-Spore Fern

Image

Draft weightings

now

-

was

1

Changeestik

Image

Draft weightings

now

-

was

5

Cheerful Shepherd

Image

Draft weightings

now

-

was

1

Cirso's Meddling

Image

Draft weightings

now

-

was

5

Clan Standard

Image

Draft weightings

now

-

was

10

Cliffside Caretaker

Image

Draft weightings

now

-

was

10

Cloudsnake Mount

Image

Draft weightings

now

-

was

1

Court Mage

Image

Draft weightings

now

-

was

10

Death from Above

Image

Draft weightings

now

-

was

5

Edict of Linrei

Image

Draft weightings

now

-

was

5

Elvish Swindler

Image

Draft weightings

now

-

was

5

Eye of Winter

Image

Draft weightings

now

-

was

10

Forbidden Research

Image

Draft weightings

now

-

was

1

From Elements

Image

Draft weightings

now

-

was

5

Frost

Image

Draft weightings

now

-

was

5

Frost Talisman

Image

Draft weightings

now

-

was

5

Frostbite Elemental

Image

Draft weightings

now

-

was

10

Glacier Shaper

Image

Draft weightings

now

-

was

1

Greed's Reward

Image

Draft weightings

now

-

was

10

Greenstretch Empath

Image

Draft weightings

now

-

was

20

Hearty Warrior

Image

Draft weightings

now

-

was

1

Helio, the Skywinder

Image

Draft weightings

now

-

was

1

Jennev Merchant

Image

Draft weightings

now

-

was

20

Jotun Bonebreaker

Image

Draft weightings

now

-

was

1

Jotun Iceslinger

Image

Draft weightings

now

-

was

5

Know When to Hold 'em

Image

Learned Imitator

Image

Draft weightings

now

-

was

1

Maelstrom Bell

Image

Draft weightings

now

-

was

5

Mass Entomancy

Image

Draft weightings

now

-

was

10

Maveloft Huntress

Image

Draft weightings

now

-

was

10

Mind Link

Image

Draft weightings

now

-

was

1

Mobilization

Image

Draft weightings

now

-

was

1

Natural Order

Image

Draft weightings

now

-

was

5

Numbing Cold

Image

Draft weightings

now

-

was

1

Parry

Image

Draft weightings

now

-

was

1

Pokpok's Slingshot

Image

Draft weightings

now

-

was

1

Primal Etchings

Image

Draft weightings

now

-

was

20

Primal Symbol

Image

Draft weightings

now

-

was

1

Quicksilver Mirror

Image

Draft weightings

now

-

was

1

Reflection

Image

Draft weightings

now

-

was

1

Reshape

Image

Draft weightings

now

-

was

1

Reverberating Strike

Image

Draft weightings

now

-

was

10

Rosebloom Mandrake

Image

Draft weightings

now

-

was

10

Sack the City

Image

Draft weightings

now

-

was

1

Savagery

Image

Draft weightings

now

-

was

10

Second Sight

Image

Draft weightings

now

-

was

10

Shared Vision

Image

Draft weightings

now

-

was

1

Shatter

Image

Draft weightings

now

-

was

10

Shifting Illusion

Image

Draft weightings

now

-

was

1

Sky Serpent

Image

Draft weightings

now

-

was

1

Snowfort

Image

Draft weightings

now

-

was

5

Spellbound Ursine

Image

Draft weightings

now

-

was

1

Spiritward Shaman

Image

Draft weightings

now

-

was

10

Starved Vorlunk

Image

Draft weightings

now

-

was

10

Stealth Strike

Image

Draft weightings

now

-

was

10

Steam Blast

Image

Draft weightings

now

-

was

10

Steam Sprite

Image

Draft weightings

now

-

was

5

Steely Resolve

Image

Draft weightings

now

-

was

1

Storm Prowler

Image

Draft weightings

now

-

was

1

Swift Refusal

Image

Draft weightings

now

-

was

1

Tainted Mark

Image

Draft weightings

now

-

was

10

Temple Shihan

Image

Draft weightings

now

-

was

10

Terrazon Echo

Image

Draft weightings

now

-

was

10

Tidecaller

Image

Draft weightings

now

-

was

1

Transpose

Image

Draft weightings

now

-

was

20

Valiant Leap

Image

Draft weightings

now

-

was

1

Vargo's Pelt

Image

Draft weightings

now

-

was

1

Vengeful Flight

Image

Draft weightings

now

-

was

1

Vernal Mandrake

Image

Draft weightings

now

-

was

1

Yeti Taunt Patrol

Image

Draft weightings

now

-

was

10

Yeti Traditionalist

Image

Draft weightings

now

-

was

1
Kept
Aerial Battle

Image

Draft weightings

now

10

was

5

Ancient Serpent

Image

Draft weightings

now

10

was

1

Araktodon

Image

Draft weightings

now

20

was

1

Channel the Tempest

Image

Draft weightings

now

5

was

1

Cloudsnake Hatchling

Image

Draft weightings

now

5

was

1

Cobalt Acolyte

Image

Draft weightings

now

10

was

1

Crystallize

Image

Draft weightings

now

5

was

10

Eilyn's Favor

Image

Draft weightings

now

20

was

1

Eilyn's Frostrider

Image

Draft weightings

now

10

was

1

Eilyn, Fearless

Image

Draft weightings

now

10

was

1

Formbend

Image

Draft weightings

now

20

was

5

Fragility

Image

Draft weightings

now

20

was

1

Frostbite Chrysalis

Image

Draft weightings

now

5

was

10

Frostwave

Image

Draft weightings

now

20

was

10

Hatchery Hunter

Image

Draft weightings

now

10

was

1

Ice Sprite

Image

Draft weightings

now

10

was

1

Icebow

Image

Draft weightings

now

10

was

1

Icequake

Image

Draft weightings

now

5

was

10

Icy Gaze

Image

Draft weightings

now

10

was

10

Jarrall's Frostkin

Image

Draft weightings

now

5

was

10

Lens of Clarity

Image

Draft weightings

now

5

was

10

Lightning Strike

Image

Draft weightings

now

20

was

1

Master Cartographer

Image

Draft weightings

now

5

was

5

Permafrost

Image

Draft weightings

now

10

was

10

Polymorph

Image

Draft weightings

now

10

was

10

Powerstone Compass

Image

Draft weightings

now

10

was

1

Primal Incarnation

Image

Draft weightings

now

5

was

1

Rain of Frogs

Image

Draft weightings

now

5

was

1

Regression

Image

Draft weightings

now

20

was

1

Savage Denial

Image

Draft weightings

now

5

was

1

Scaly Gruan

Image

Draft weightings

now

10

was

1

Shapeshifter's Mask

Image

Draft weightings

now

5

was

5

Skycrag Wyvarch

Image

Draft weightings

now

10

was

1

Staff of Stories

Image

Draft weightings

now

5

was

10

Storm Spiral

Image

Draft weightings

now

10

was

5

Stormcaller

Image

Draft weightings

now

10

was

5

Thunderbird

Image

Draft weightings

now

5

was

1

Torgov, Icecap Trader

Image

Draft weightings

now

10

was

1

Valley-Clan Sage

Image

Draft weightings

now

10

was

1

Violent Gust

Image

Draft weightings

now

10

was

10

Whispering Wind

Image

Draft weightings

now

5

was

1

Wild Cloudsnake

Image

Draft weightings

now

5

was

1

Wild Rider

Image

Draft weightings

now

20

was

1

Wind Cloak

Image

Draft weightings

now

20

was

5

Windshaper

Image

Draft weightings

now

5

was

1

Wisdom of the Elders

Image

Draft weightings

now

20

was

5
Shadow
Added
Amethyst Monument

Image

Draft weightings

now

5

was

-

Angry Prophet

Image

Draft weightings

now

5

was

-

Arach, Razorshaper

Image

Draft weightings

now

10

was

-

Auren Taxation

Image

Draft weightings

now

10

was

-

Auric Captain

Image

Draft weightings

now

5

was

-

Banished Umbren

Image

Draft weightings

now

10

was

-

Bastion Boltcrafter

Image

Draft weightings

now

5

was

-

Blackout the Skies

Image

Draft weightings

now

5

was

-

Cabal Scavenger

Image

Draft weightings

now

10

was

-

Cowardice

Image

Draft weightings

now

20

was

-

Cull the Deck

Image

Draft weightings

now

20

was

-

Darkwater Vines

Image

Draft weightings

now

20

was

-

Defile

Image

Draft weightings

now

10

was

-

Diabolic Machinations

Image

Draft weightings

now

20

was

-

Exploit

Image

Draft weightings

now

5

was

-

Explosive Potential

Image

Draft weightings

now

10

was

-

Faceless One

Image

Draft weightings

now

20

was

-

Fatal Misstep

Image

Draft weightings

now

20

was

-

Gorgon Cutthroat

Image

Draft weightings

now

10

was

-