November 2020 Format Updates
Changes to Expedition and Draft Packs with the latest patch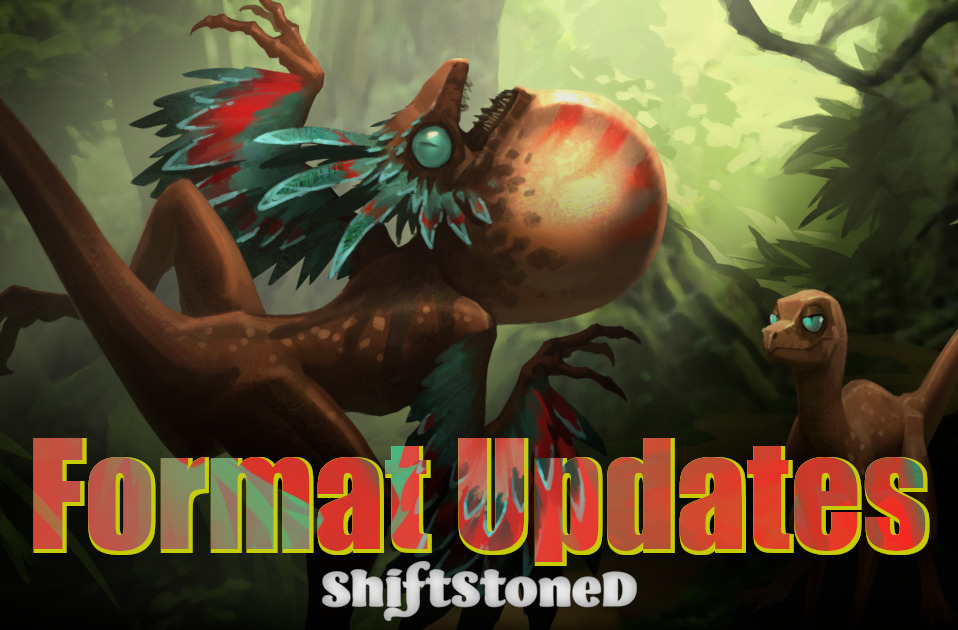 - Tomorrow the Eternal Celebration will be ending, and the Empty Thone throwback draft format is leaving with it. The Argent Depths draft format will return, but some things will be different.
Along with reordering the drafted packs and updating the Draft Pack's card weightings, 56 cards will be added to the Draft Packs and the Expedition format, followed a few days later by the new bundle set Bastion Rising. This is the second mid-format update to the Argent Depths draft format, after the previous one in mid-August.
Here are the changes to the format's Draft Packs, sorted into Added for additions to the Draft Packs and Expedition, and Kept for adjusted weightings (weighting affects the rate a card appears in draft—for example, cards with a weight of 5x are five times more likely to appear in Draft Packs than cards with a weight of 1x at the same rarity).
Note that kept cards with unchanged weightings are not listed here. The official list of current Draft Pack contents and Expedition-legal cards can always be found on DWD's site.
Fire
Added
Cindermaw Tota

Image

Draft weightings

now

10

was

-

Galai, Shavka's Listener

Image

Draft weightings

now

1

was

-

Grenadin Drone

Image

Draft weightings

now

10

was

-

Honor the Ancestors

Image

Draft weightings

now

10

was

-

Impatient Pyromage

Image

Draft weightings

now

10

was

-

Oni Quartermaster

Image

Draft weightings

now

10

was

-

Research Assistant

Image

Draft weightings

now

10

was

-

Siege Breaker

Image

Draft weightings

now

10

was

-
Kept
Ankle Cutter

Image

Draft weightings

now

1

was

5

Assault Shield

Image

Draft weightings

now

1

was

5

Barbarian Camp

Image

Draft weightings

now

1

was

10

Bladecrafter

Image

Draft weightings

now

10

was

1

Blazing Renegade

Image

Draft weightings

now

1

was

10

Burningcore Drake

Image

Draft weightings

now

10

was

1

Centaur Outrider

Image

Draft weightings

now

1

was

10

Char

Image

Draft weightings

now

10

was

1

Criva, the Crimson Scythe

Image

Draft weightings

now

1

was

10

Dusthoof Brawler

Image

Draft weightings

now

1

was

10

Firemane Cub

Image

Draft weightings

now

10

was

1

Flash Fire

Image

Draft weightings

now

1

was

10

Forgeborn

Image

Draft weightings

now

1

was

5

Furnace Mage

Image

Draft weightings

now

10

was

1

General Izalio

Image

Draft weightings

now

1

was

10

Granite Acolyte

Image

Draft weightings

now

10

was

1

Gun Down

Image

Draft weightings

now

1

was

5

Hammerhand

Image

Draft weightings

now

10

was

1

Harmony of Flame

Image

Draft weightings

now

1

was

10

Helpful Doorbot

Image

Draft weightings

now

1

was

10

Iceberg Scattershot

Image

Draft weightings

now

1

was

5

Kaleb's Favor

Image

Draft weightings

now

10

was

1

Kindling Carver

Image

Draft weightings

now

1

was

10

Markmaker

Image

Draft weightings

now

10

was

1

Obliterate

Image

Draft weightings

now

1

was

10

Outlands Sniper

Image

Draft weightings

now

10

was

1

Piercing Shot

Image

Draft weightings

now

1

was

10

Pit Fighter

Image

Draft weightings

now

1

was

5

Rally

Image

Draft weightings

now

1

was

10

Rampage

Image

Draft weightings

now

1

was

10

Rebel Illuminator

Image

Draft weightings

now

10

was

1

Refracted Sentinel

Image

Draft weightings

now

1

was

10

Ruin

Image

Draft weightings

now

1

was

10

Ruinous Burst

Image

Draft weightings

now

10

was

1

Sear

Image

Draft weightings

now

10

was

1

Shavka Evangel

Image

Draft weightings

now

10

was

5

Skyfire Hellkite

Image

Draft weightings

now

10

was

5

Song of War

Image

Draft weightings

now

1

was

5

Steelbound Dragon

Image

Draft weightings

now

10

was

1

Stonescar Excavator

Image

Draft weightings

now

1

was

10

Stonesmelt Dragon

Image

Draft weightings

now

10

was

1

Tattoo Dragon

Image

Draft weightings

now

10

was

1

Thunderhoof Warrior

Image

Draft weightings

now

10

was

1

Tota Pioneer

Image

Draft weightings

now

10

was

1

Touch of Force

Image

Draft weightings

now

1

was

10

Tumblebang

Image

Draft weightings

now

1

was

10

Worldpyre Phoenix

Image

Draft weightings

now

10

was

1
Time
Added
Be Gone

Image

Draft weightings

now

10

was

-

Bolster

Image

Draft weightings

now

10

was

-

Horn of Plenty

Image

Draft weightings

now

10

was

-

Locust

Image

Draft weightings

now

10

was

-

Marisen's Disciple

Image

Draft weightings

now

10

was

-

Quicksilver Ooze

Image

Draft weightings

now

10

was

-

Woda, Grodov's Listener

Image

Draft weightings

now

1

was

-
Kept
Amber Acolyte

Image

Draft weightings

now

10

was

1

Ancient Lore

Image

Draft weightings

now

10

was

1

Arcane Restraint

Image

Draft weightings

now

1

was

10

Ardent Convert

Image

Draft weightings

now

1

was

10

Baying Serasaur

Image

Draft weightings

now

1

was

10

Belching Behemoth

Image

Draft weightings

now

1

was

10

Borderlands Lookout

Image

Draft weightings

now

1

was

10

Cult Recruiter

Image

Draft weightings

now

1

was

5

Dune Phantom

Image

Draft weightings

now

1

was

5

Envelop

Image

Draft weightings

now

1

was

10

First Watch

Image

Draft weightings

now

1

was

10

Gravewatch Ancestor

Image

Draft weightings

now

10

was

1

Grodov Evangel

Image

Draft weightings

now

10

was

5

Hall of Lost Kings

Image

Draft weightings

now

1

was

10

Humbug Nest

Image

Draft weightings

now

10

was

1

Humbug Swarm

Image

Draft weightings

now

10

was

1

Learned Herbalist

Image

Draft weightings

now

1

was

5

Merizo, Gladiator Hero

Image

Draft weightings

now

1

was

10

Mettle

Image

Draft weightings

now

1

was

10

Nahid's Distillation

Image

Draft weightings

now

10

was

1

Oasis Sanctuary

Image

Draft weightings

now

1

was

10

Packbeast

Image

Draft weightings

now

1

was

10

Panoptic Guardian

Image

Draft weightings

now

1

was

5

Pause for Reflection

Image

Draft weightings

now

1

was

10

Platinum Qirin

Image

Draft weightings

now

10

was

1

Precision Plunge

Image

Draft weightings

now

1

was

10

Predatory Carnosaur

Image

Draft weightings

now

10

was

1

Premonition Wisp

Image

Draft weightings

now

1

was

10

Rectifier

Image

Draft weightings

now

10

was

1

Sand Warrior

Image

Draft weightings

now

1

was

10

Sauropod Wrangler

Image

Draft weightings

now

1

was

10

Shield of the Line

Image

Draft weightings

now

1

was

10

Silence

Image

Draft weightings

now

1

was

10

Talir's Favored

Image

Draft weightings

now

10

was

1

Temple Scribe

Image

Draft weightings

now

10

was

1

Timekeeper

Image

Draft weightings

now

1

was

10

Touch of Battle

Image

Draft weightings

now

1

was

10

Turn Back Time

Image

Draft weightings

now

10

was

1

Unlock Potential

Image

Draft weightings

now

1

was

10

Vital Arcana

Image

Draft weightings

now

10

was

1

Waystone Gate

Image

Draft weightings

now

10

was

1

Wurmcalling

Image

Draft weightings

now

10

was

1
Justice
Added
Answer the Call

Image

Draft weightings

now

1

was

-

Barrel Through

Image

Draft weightings

now

10

was

-

Ezuzi, Kodosh's Listener

Image

Draft weightings

now

1

was

-

Privilege of Rank

Image

Draft weightings

now

10

was

-

Shard of the Spire

Image

Draft weightings

now

10

was

-

Soothing Shortbeak

Image

Draft weightings

now

10

was

-

Wanted Poster

Image

Draft weightings

now

10

was

-
Kept
Barricade

Image

Draft weightings

now

1

was

10

Citywide Ban

Image

Draft weightings

now

1

was

10

Copperhall Porter

Image

Draft weightings

now

10

was

1

Crownwatch Paladin

Image

Draft weightings

now

10

was

1

Deafening Word

Image

Draft weightings

now

1

was

10

Defiance

Image

Draft weightings

now

10

was

1

Detain

Image

Draft weightings

now

1

was

10

Divebomb

Image

Draft weightings

now

1

was

10

Enchanted Platemail

Image

Draft weightings

now

10

was

5

Ensnare

Image

Draft weightings

now

1

was

10

Fencing Master

Image

Draft weightings

now

1

was

10

Finest Hour

Image

Draft weightings

now

1

was

10

Fourth-Tree Elder

Image

Draft weightings

now

10

was

1

Ghostblade Outcast

Image

Draft weightings

now

1

was

5

Heirloom Blade

Image

Draft weightings

now

1

was

5

Hooru Envoy

Image

Draft weightings

now

1

was

10

Inflict Conscience

Image

Draft weightings

now

1

was

10

Inner Might

Image

Draft weightings

now

1

was

10

Jadehorn

Image

Draft weightings

now

10

was

5

Kira, the Prodigy

Image

Draft weightings

now

1

was

5

Kodosh Evangel

Image

Draft weightings

now

10

was

5

Mantle of Justice

Image

Draft weightings

now

1

was

10

Minotaur Duelist

Image

Draft weightings

now

10

was

1

Minotaur Grunt

Image

Draft weightings

now

1

was

10

Mithril Mace

Image

Draft weightings

now

10

was

1

Peacekeeper's Prod

Image

Draft weightings

now

10

was

5

Pistolwhip

Image

Draft weightings

now

1

was

5

Promising Pupil

Image

Draft weightings

now

10

was

5

Purgedriver

Image

Draft weightings

now

10

was

1

Rabblerouser

Image

Draft weightings

now

1

was

5

Rebuke

Image

Draft weightings

now

1

was

10

Reinforced Baton

Image

Draft weightings

now

10

was

1

Resounding Shockwave

Image

Draft weightings

now

1

was

10

Rolant's Favor

Image

Draft weightings

now

10

was

1

Rolant's Honor Guard

Image

Draft weightings

now

10

was

1

Rolant's Memorial

Image

Draft weightings

now

1

was

10

Siege Provisions

Image

Draft weightings

now

10

was

1

Silver Shortsword

Image

Draft weightings

now

1

was

10

Silverwing Commander

Image

Draft weightings

now

10

was

1

Sky King Storyteller

Image

Draft weightings

now

10

was

1

Stalwart Silverwing

Image

Draft weightings

now

1

was

10

Stand Strong

Image

Draft weightings

now

1

was

10

Steadfast Deputy

Image

Draft weightings

now

1

was

10

Storm of Feathers

Image

Draft weightings

now

1

was

10

Talon of Nostrix

Image

Draft weightings

now

1

was

10

Tinker Apprentice

Image

Draft weightings

now

1

was

10

Tinker Overseer

Image

Draft weightings

now

1

was

10

Touch of Purity

Image

Draft weightings

now

1

was

10

Town Watchman

Image

Draft weightings

now

10

was

1

Victor's Cry

Image

Draft weightings

now

1

was

5

Willbreaker

Image

Draft weightings

now

10

was

1

Xultan Arbalest

Image

Draft weightings

now

10

was

1
Primal
Added
Blitrok, Linrei's Listener

Image

Draft weightings

now

1

was

-

Hatchery Hunter

Image

Draft weightings

now

10

was

-

Lida's Apprentice

Image

Draft weightings

now

1

was

-

Master Cartographer

Image

Draft weightings

now

10

was

-

Mating Call

Image

Draft weightings

now

10

was

-

Reinforced Tower Shield

Image

Draft weightings

now

10

was

-

Sapphire Dragon

Image

Draft weightings

now

10

was

-

Swindle

Image

Draft weightings

now

10

was

-

Wild Cloudsnake

Image

Draft weightings

now

10

was

-

Wild Rider

Image

Draft weightings

now

10

was

-
Kept
Abyssal Scrying

Image

Draft weightings

now

10

was

1

Araktodon

Image

Draft weightings

now

1

was

10

Boltcrafter Shaman

Image

Draft weightings

now

1

was

5

Bottled Storm

Image

Draft weightings

now

10

was

1

Brood of Eremot

Image

Draft weightings

now

10

was

1

Brutal Frostlord

Image

Draft weightings

now

10

was

1

Changeestik

Image

Draft weightings

now

1

was

10

Cobalt Acolyte

Image

Draft weightings

now

10

was

1

Crystallize

Image

Draft weightings

now

1

was

5

Cutbrush Cartographer

Image

Draft weightings

now

1

was

10

Death from Above

Image

Draft weightings

now

1

was

10

Double Helix Drake

Image

Draft weightings

now

1

was

5

Eilyn's Favor

Image

Draft weightings

now

10

was

1

Eilyn's Frostrider

Image

Draft weightings

now

10

was

5

Formbend

Image

Draft weightings

now

1

was

10

Frostbite Chrysalis

Image

Draft weightings

now

1

was

10

Galeprowler

Image

Draft weightings

now

10

was

5

Icebow

Image

Draft weightings

now

10

was

5

Icicle Marksman

Image

Draft weightings

now

1

was

10

Icy Gaze

Image

Draft weightings

now

1

was

5

Jarrall's Frostkin

Image

Draft weightings

now

1

was

5

Jump Kick

Image

Draft weightings

now

1

was

5

Levitate

Image

Draft weightings

now

1

was

10

Lightning Storm

Image

Draft weightings

now

1

was

5

Lightning Strike

Image

Draft weightings

now

10

was

1

Linrei Evangel

Image

Draft weightings

now

10

was

5

Linrei's Kiss

Image

Draft weightings

now

1

was

5

Lumbering Gruan

Image

Draft weightings

now

1

was

5

Mischief Yeti

Image

Draft weightings

now

1

was

10

Overlook Spotter

Image

Draft weightings

now

1

was

10

Permafrost

Image

Draft weightings

now

10

was

5

Plagued Gryffyn

Image

Draft weightings

now

10

was

1

Powderglider

Image

Draft weightings

now

1

was

5

Primal Incarnation

Image

Draft weightings

now

1

was

10

Provoke the Dragons

Image

Draft weightings

now

10

was

1

Psionic Savant

Image

Draft weightings

now

10

was

1

Savage Denial

Image

Draft weightings

now

10

was

5

Shiver

Image

Draft weightings

now

10

was

1

Skycrag Wyvarch

Image

Draft weightings

now

10

was

1

Snowfort Trumpeter

Image

Draft weightings

now

1

was

10

Tend the Flock

Image

Draft weightings

now

1

was

10

Touch of Wild

Image

Draft weightings

now

1

was

10

Tundra Explorer

Image

Draft weightings

now

1

was

10

Whispering Wind

Image

Draft weightings

now

10

was

1

Wisdom of the Elders

Image

Draft weightings

now

10

was

5

Yeti Furflinger

Image

Draft weightings

now

10

was

1
Shadow
Added
Eye for an Eye

Image

Draft weightings

now

10

was

-

Incarnus, Makkar's Listener

Image

Draft weightings

now

1

was

-

Marsh Dragon

Image

Draft weightings

now

10

was

-

Rat Cage

Image

Draft weightings

now

10

was

-

Scavenge

Image

Draft weightings

now

10

was

-

Steward of the Past

Image

Draft weightings

now

10

was

-

Street Urchin

Image

Draft weightings

now

10

was

-
Kept
Amethyst Acolyte

Image

Draft weightings

now

10

was

1

Annihilate

Image

Draft weightings

now

10

was

1

Argenport Instigator

Image

Draft weightings

now

1

was

10

Ashara, the Deadshot

Image

Draft weightings

now

1

was

10

Azindel's Gift

Image

Draft weightings

now

1

was

10

Banewulf

Image

Draft weightings

now

10

was

5

Bloodseeker

Image

Draft weightings

now

1

was

10

Bloodwolf

Image

Draft weightings

now

10

was

1

Cabal Countess

Image

Draft weightings

now

1

was

5

Contaminating Ritual

Image

Draft weightings

now

1

was

10

Cut Ties

Image

Draft weightings

now

10

was

1

Dark Betrayal

Image

Draft weightings

now

1

was

10

Dark Wisp

Image

Draft weightings

now

10

was

1

Defile

Image

Draft weightings

now

10

was

1

Devious Drone

Image

Draft weightings

now

1

was

10

Devour

Image

Draft weightings

now

10

was

1

Devouring Shadow

Image

Draft weightings

now

1

was

10

Direwood Prowler

Image

Draft weightings

now

10

was

1

Direwood Rampager

Image

Draft weightings

now

1

was

10

Elder Astrologer

Image

Draft weightings

now

10

was

1

Faceless One

Image

Draft weightings

now

10

was

1

Fallen Oni

Image

Draft weightings

now

1

was

10

Feartracker

Image

Draft weightings

now

10

was

1

Felrauk's Infiltrator

Image

Draft weightings

now

10

was

1

Gorgon Cutthroat

Image

Draft weightings

now

1

was

10

Harbinger's Bite

Image

Draft weightings

now

1

was

10

Illicit Armament

Image

Draft weightings

now

1

was

10

Impending Doom

Image

Draft weightings

now

10

was

1

Improvised Club

Image

Draft weightings

now

1

was

10

Infused Strike

Image

Draft weightings

now

1

was

10

Lifedrinker

Image

Draft weightings

now

1

was

10

Lunging Wisp

Image

Draft weightings

now

1

was

10

Makkar Evangel

Image

Draft weightings

now

10

was

5

Malediction

Image

Draft weightings

now

10

was

1

Marionette Cross

Image

Draft weightings

now

10

was

1

Minotaur Lighthoof

Image

Draft weightings

now

10

was

1

Oblivion Spike

Image

Draft weightings

now

1

was

5

Piercing Grief

Image

Draft weightings

now

1

was

10

Pilfer

Image

Draft weightings

now

1

was

10

Scheme

Image

Draft weightings

now

1

was

10

Slimespitter Slug

Image

Draft weightings

now

10

was

1

Slumbering Stone

Image

Draft weightings

now

1

was

10

Spectral Scythe

Image

Draft weightings

now

1

was

5

Spur On

Image

Draft weightings

now

1

was

10

Succumb

Image

Draft weightings

now

10

was

1

Swear Vengeance

Image

Draft weightings

now

1

was

5

Territorial Elf

Image

Draft weightings

now

1

was

10

Tock Tick

Image

Draft weightings

now

1

was

10

Touch of Resilience

Image

Draft weightings

now

1

was

10

Urgent Missive

Image

Draft weightings

now

1

was

5

Vara's Favor

Image

Draft weightings

now

10

was

1
Praxis
Added
Kairos' Choice

Image

Draft weightings

now

10

was

-
Kept
Champion of Impulse

Image

Draft weightings

now

10

was

5

East Annex Smuggler

Image

Draft weightings

now

1

was

10

Sandglass Sentinel

Image

Draft weightings

now

10

was

5

Victor's Feast

Image

Draft weightings

now

10

was

1
Combrei
Added
Aamri's Choice

Image

Draft weightings

now

10

was

-

Vodakhan, Temple Speaker

Image

Draft weightings

now

1

was

-
Kept
Auric Record Keeper

Image

Draft weightings

now

1

was

10

Champion of Progress

Image

Draft weightings

now

10

was

5

Copperhall Elite

Image

Draft weightings

now

10

was

1

Hammer of Unity

Image

Draft weightings

now

1

was

10

Pearl Abbey Smuggler

Image

Draft weightings

now

1

was

10

Penitent Bull

Image

Draft weightings

now

1

was

10

Safe Return

Image

Draft weightings

now

10

was

5
Hooru
Added
Aerialist Trainer

Image

Draft weightings

now

10

was

-

Forbidden-Rider Outcast

Image

Draft weightings

now

10

was

-

Parul's Choice

Image

Draft weightings

now

10

was

-
Kept
Rime Conclave Smuggler

Image

Draft weightings

now

1

was

10
Feln
Added
Felrauk's Choice

Image

Draft weightings

now

10

was

-

Withering Witch

Image

Draft weightings

now

10

was

-
Kept
Ancient of the Ice Caves

Image

Draft weightings

now

10

was

1

Blight Pass Smuggler

Image

Draft weightings

now

1

was

10

Champion of Cunning

Image

Draft weightings

now

10

was

5

Darktalon Wyvarch

Image

Draft weightings

now

1

was

10

Essence Feast

Image

Draft weightings

now

1

was

10

Feeding Time

Image

Draft weightings

now

1

was

10

Rindra's Choice

Image

Draft weightings

now

10

was

1

Trickster's Cloak

Image

Draft weightings

now

10

was

1

Twilight Raptor

Image

Draft weightings

now

1

was

10
Stonescar
Added
Jekk's Choice

Image

Draft weightings

now

10

was

-

Voprex's Choice

Image

Draft weightings

now

10

was

-
Kept
Cen Wastes Smuggler

Image

Draft weightings

now

1

was

10

Champion of Chaos

Image

Draft weightings

now

10

was

5

Combust

Image

Draft weightings

now

10

was

1

Cremate

Image

Draft weightings

now

1

was

10

Infernal Tyrant

Image

Draft weightings

now

10

was

1

Premature Burial

Image

Draft weightings

now

1

was

10

Shrine to Karvet

Image

Draft weightings

now

1

was

10
Rakano
Kept
Champion of Glory

Image

Draft weightings

now

10

was

5

Tinker Dronedropper

Image

Draft weightings

now

10

was

1
Elysian
Added
Crown of Possibilities

Image

Draft weightings

now

1

was

-
Kept
Amaran Camel

Image

Draft weightings

now

1

was

10

Champion of Wisdom

Image

Draft weightings

now

10

was

5

Derry Cathain, Ripclaw Rider

Image

Draft weightings

now

1

was

10

Hunting Pteriax

Image

Draft weightings

now

10

was

1

Majestic Skies

Image

Draft weightings

now

1

was

10
Argenport
Kept
Champion of Vengeance

Image

Draft weightings

now

10

was

5

Eloz's Choice

Image

Draft weightings

now

10

was

1

Sanguine Sword

Image

Draft weightings

now

1

was

10

Unfinished Business

Image

Draft weightings

now

1

was

10
Skycrag
Added
Crill, Merciless Pillager

Image

Draft weightings

now

1

was

-
Kept
Acedonis, Untainted

Image

Draft weightings

now

10

was

1
Xenan
Kept
Champion of Mystery

Image

Draft weightings

now

10

was

5

Endless Nightmare

Image

Draft weightings

now

10

was

1

Eremot's Machinations

Image

Draft weightings

now

1

was

10

Xenan Augury

Image

Draft weightings

now

1

was

10
Mixed
Added
Display of Ambition

Image

Draft weightings

now

10

was

-

Display of Honor

Image

Draft weightings

now

10

was

-

Display of Instinct

Image

Draft weightings

now

10

was

-

Display of Knowledge

Image

Draft weightings

now

10

was

-

Display of Vision

Image

Draft weightings

now

10

was

-
Kept
Razorpain Hellkite

Image

Draft weightings

now

10

was

1

Token of Creation

Image

Draft weightings

now

10

was

5

Token of Destruction

Image

Draft weightings

now

10

was

5

Token of Menace

Image

Draft weightings

now

10

was

5

Token of Purpose

Image

Draft weightings

now

10

was

5

Token of Tradition

Image

Draft weightings

now

10

was

5
Neutral
Kept
Ancient Manual

Image

Draft weightings

now

10

was

1

Diplomatic Seal

Image

Draft weightings

now

1

was

10

Rage

Image

Draft weightings

now

1

was

5

Seek Power

Image

Draft weightings

now

10

was

5

Unfamiliar Interloper

Image

Draft weightings

now

10

was

1

Veteran Strategist

Image

Draft weightings

now

1

was

10

Worn Shield

Image

Draft weightings

now

1

was

10